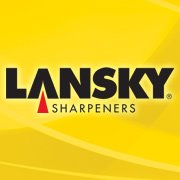 By producing in the USA, Lansky can deliver with confidence the highest quality products that our customers have come to expect from us. - Chris Fire, Lansky CEO
Buffalo, New York (PRWEB) May 29, 2013
Lansky Sharpeners, a world leader in innovative sharpening technology, has gone back to the drawing board and redesigned their whole line of folding diamond paddles and folding diamond taper rods. The redesigned sharpeners host a number of features that will make them easier and safer to use. Lansky is very proud to announce that its newly designed lines of Folding Diamond Sharpeners are made in the U.S.A.
Reflecting Lansky's commitment to innovative and ergonomic design, the folding sharpeners have merged the best qualities of diamond technology with a new robust handle. These newly designed handles make a significant change to how the knife sharpener feels when in use. Lansky accomplished this by increasing the girth, organically rounding the profile and using impact resistant nylon impregnated plastic for the new handles.
Arguably the most significant change to the handles has been the addition of easy-to-use, but shrewd locking handles. With one easy motion, the folding handles transform the sharpener from a small, pocket-sized package to a robust and sturdy field tool. These small changes start adding up and greatly increase how comfortable and substantial the sharpeners feel in the hand. To take any guess work out of using the Double-Sided Folding Diamond Paddles, the abrasive grit is clearly labeled on both sides of the paddle to make any sharpening task lightning fast.
About the company:
Lansky Sharpeners is the most recognized name in knife sharpening systems worldwide. In addition to their legendary Controlled-Angle Sharpening System, they continue to develop new sharpening technologies and innovations for hunting, outdoor sports, kitchen use, as well as the workshop. Visit their online store to view their ever-expanding line of great sharpening products. For more information, visit their website at http://www.lansky.com.