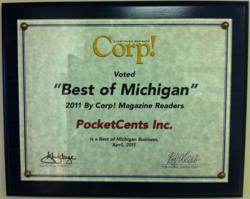 PocketCents appreciates being recognized and would like to thank everyone who voted.
Shelby Township, MI (Vocus/PRWEB) April 18, 2011
PocketCents Inc. has been voted by Corp! Magazine readers as one of Michigan's best businesses. PocketCents was honored at Corp! Magazine's Awards Breakfast on April 5 at the Michigan State University Management Education Center in Troy. The award is presented annually to Michigan business who represent growth and leadership in Michigan by participating in the development of its future. PocketCents appreciates being recognized and would like to thank everyone who voted.
PocketCents technology provides a highly-targeted, local ad experience to consumers for businesses campaigning online. As one of Michigan's few digital advertising networks, PocketCents is attempting to assist in the modernization of a market dominated by traditional media. PocketCents routinely works with local businesses, restaurants, newspapers and media organizations to digitize their revenue streams, to bring both advertisers and publishers into the digital market. PocketCents advertising is designed for campaigns of any size from global, national to the recently popular hyper-local. In this way, PocketCents hopes to be accessible to small businesses in Michigan and everywhere as they make the transition to online forms of advertising.
About PocketCents:
PocketCents, Inc. (http://www.pocketcents.com) is a Local Online Advertising Network specializing in promoting small and local businesses through pay-per-click targeted advertising banners. PocketCents provides Local Internet Marketing on their $0.25 per click flat-rate local PPC network. The PocketCents network has publishers in the U.S. and around the world displaying more than 3 million ads per day. Advertising Media Types include traditional banner advertisements, Local Coupon Advertising, and pop-up local video ads. In addition, free-to-join affiliate marketing and banner advertisement publishing partnerships are available.
###