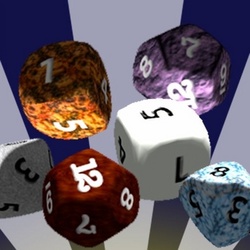 Dallas, TX (Vocus) September 16, 2009
Big in Japan, a Dallas-based idea factory for mobile applications, today announced that its new app, PocketDice, is now available for free download at the Apple iTunes App Store.
Created by a Big in Japan developer and designer team made up of Tyler Parsons and Jay Shuffler, PocketDice simulates the shaking, tossing and collisions of real dice -- from four-sided up to 20-sided -- in a variety of textures and styles.
PocketDice features:

realistic 3D dice motion, including physics-based collisions;
dice options of four, six, eight, 10, 12 and 20 sides;
a variety of dice styles/textures, including sharp-edged and smooth polished dice;
a variety of game backgrounds.
PocketDice is the perfect companion for games such as Dungeons & Dragons, Warhammer, HeroClix and Mechwarrior.
Tyler Parsons is a veteran developer who has created a number of popular iPhone apps, including palmReader and Trains. Parsons specializes in 3D games built for the iPhone using the Unity3D gaming engine.
Jay Shuffler has worked as a creative director and senior art director for some of Dallas' top advertising agencies and has built creative departments for companies such as Lending.com and Credit Solutions.
To download PocketDice, visit the Big in Japan Web site at http://www.biggu.com/apps/pocketdice-iphone.
About Big in Japan
Big in Japan Inc. is a Dallas-based idea factory for mobile applications, building software for Google's Android mobile platform and Apple's iPhone. Big in Japan's ShopSavvy application -- a personal shopping assistant -- is one of the most popular applications designed for the Android operating system for mobile phones. For more information, visit http://www.biggu.com
###