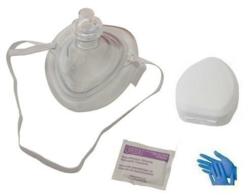 A perfect mask for the emergency needs
New York, NY (PRWEB) April 27, 2013
Lifeguard Master's CPR pocket mask has been improved to increase it's efficiency ensuring that it works in an emergency. This CPR mask is designed to be versatile and can be used on an adult, child and infant. It is designed to fit the needs of any emergency care provider in many situations. The mask has more benefits.
This mask is universal. The CPR mask can fit around the face of an adult and child as well as an infant. Having a mask that can fit to just about any person of any size out there is very beneficial and practical to the emergency provider. With carrying just one mask, this ensures that the emergency provider is equipped to handle anyone out there, increasing the life saving speed and survival rate of the victim. The mask being able to fit to anyone, regardless of size, is due to it having a soft contoured vinyl cuff. This allows the mask to shape to anyone, large or small. For more information on this, please click on: Visit Website
This mask is also equipped with the, ever so important, filtered one way valve. This valve is detachable and replaceable. The valve being one way ensures that air only travels one way, protecting the emergency provider. And the valve being filtered helps protect the victim as well. The valve is also replaceable and detachable. The valve being replaceable is so that if the mask is ever used in a training or real life situation, the valve can then be replaced.
This mask is also FDA and 510k approved. There are many CPR masks that find their way in the US. Many of these masks may not have gone through and are not FDA approved. If the masks are not FDA approved, then chances are high that the performance of these masks are not up to industry standards. This white case CPR pocket mask that Lifeguard Master has come out with is a professional resuscitation mask. So when the time comes, it will do its job. In a threatening life situation, there is no time for guessing. Having a mask that is approved by the proper agencies is vital and gives added assurance to its performance. For more information, please click on: Find Out More
This new mask also comes with a head strap, which is beneficial. In an emergency situation this mask will be able to wrap around the victim and stay in place. The head strap will provide this benefit making it easier and practical for the provider to administer resuscitation breaths.
This CPR pocket mask also comes with an alcohol wiping sheet. This is used to wipe off and disinfect areas that will be in contact. This can be used in an emergency and training situation to help prevent infection. This helps protect the emergency provider as well as the victim. Having alcohol wipes in your CPR mask kit just ensures the added protection. So when the time comes, the provider is ready to help save a life. To view this CPR mask, please go to: http://www.lifeguardmaster.com/cpr-pocket-face-masks-and-bvms
These CPR pocket masks also come with gloves. Putting on gloves, in an emergency situation, gives an added protection when interacting with the victim. Gloves allow protection for the emergency provider as well as the victim. Gloves are included in every one of these CPR pocket mask kits.
All the items mentioned above, such as the mask, one way valve, wipes, and gloves come in a single carrying case. There are 2 big benefits in having a carrying case. One is the case ensures all the items are in one place. Instead of the items being at separate locations, the case ensures that everything is in one place at the time you need them. This saves precious time, and this speed is vital in an emergency situation. A second benefit of having a carrying case is that it helps the items remain sterile. Being in a case and in a closed environment helps the mask remain free and protected from outside elements, until ready to be used. To view this mask and a video of it, please visit: LifeguardMaster.com/CPR-Pocket-Face-Masks-and-BVMs
Lifeguard Master has been providing safety and emergency supplies for years. We are one of the leaders in the industry for emergency and life saving gear. For more information regarding these CPR pocket masks, please give us a call, send us an e-mail, or visit our website. Thank you. To view a photo, video or for a more detailed description of this mask, please visit: More on CPR Masks
Sammy
Lifeguard Master
(714) 605-3090
http://www.LifeguardMaster.com