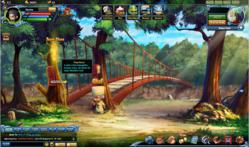 Bloodline Limits are powerful abilities passed down through the bloodlines of clans.
Hull, UK (PRWEB) August 03, 2012
The anticipated Pockie Ninja II Original open beta launched on July 25th and has already opened a new server following a hugely popular first week.
Published by NGames, Pockie Ninja II Original brings a significant advancement over 2011's smash hit, Pockie Ninja. The Naruto and Bleach MMO sequel is available in two versions – a dedicated standalone version, and a patched version rolled out over Pockie Ninja.
Naruto fans will know that ninjas with Bloodline Limits are extremely powerful, but only a select few characters in the anime world can possess them. Pockie Ninja II Original allows every player to own a Bloodline Limit, as long as they have a good relationship with the NPCs who possess them
Bloodline Limits are powerful abilities passed down through the bloodlines of clans. They cannot be taught or copied by other ninjas, but they can be gifted. Getting to know the various Bloodline NPC's and performing their daily quests until the correct level is reached should see to that.
There are currently 8 main Bloodline Limits players can learn, each coming with stat and Ninjutsu bonuses.
Pockie Ninja II Original's Bloodline Limits include: the Full Launch – an attack boost earned at lvl 25 by getting friendly with Tenten; the Toxic Immune – a HP booster gifted by Shizune at lvl. 26; and the Hidden Snake Hands - a powerful agility and HP increase that can be rewarded by Mitarashi Anko at lvl.31.
Each bloodline limit can be acquired by completing specific tasks. If players don't want it, they can sell it on at the Auction House for a tidy profit.
The Pockie Ninja II Original Open Beta launched on July 25th. The second server, "Alabasta," has already opened.
Official Site: http://ninja.game321.com/activities/pn1/