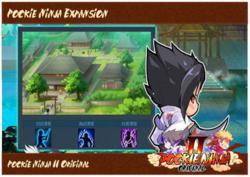 The introduction of this expansive new clan system to Pockie Ninja II Original represents another significant advancement for the popular game series
Hull, UK (PRWEB) August 17, 2012
NGames, a leading online publisher, has today revealed the four new gameplay mechanics introduced by the clan system in their Naruto and Bleach inspired MMO sequel, Pockie Ninja II Original.
In the ninja world, being part of a clan not only means inheriting powerful bloodlines and ninjutsu skills, it is also a haven where ninjas can find peace within - and some much needed protection.
As part of a clan, players can join one of three courses in the Ninjutsu Class, which is frequented by well known characters such as Naruto, Sasuke and Sakura. The Ninjutsu Class is a great place for leveling up and getting involved with the Bankai System, serving as a key environment to allow players to develop their own Zanpakuto – the legendary soul-cutter swords from Bleach.
Clan ninjas can also plant their own special roots in the Ninjutsu Garden. Owning a fast growing tree will offer ways to quickly accumulate Zanpaku EXP, which can be exchanged for leveling up Zanpakuto. But the tree must be protected.
Fertile gardens are craved by monsters, who sneak in every day between 16:00 – 17:00. Ninjas must prepare to Protect the Garden during this time and banish the invading monsters from within their clan space. How players achieve this is up to them. Successfully defending the garden will be rewarded with bags of Zanpaku and Stone loot.
In the depths of the garden hides a warehouse guarded by the ninja dog Pakkun. Here, clan ninjas can rest their battle weary limbs and lick their wounds as a group while enjoying a picnic during weekends - as long as they remember to donate food to the warehouse during weekdays.
The introduction of this expansive new clan system to Pockie Ninja II Original represents another significant advancement for the popular game series. Currently in open beta, Pockie Ninja II Original has improved upon 2011's multiple award-winning browser game, Pockie Ninja, in massive ways. The sequel and expansion has added a huge graphical upgrade powered by a new engine; brand new storylines built around Orochi Kabuto; a Bankai system; an expansive free-roaming world; and more.
NGames is still optimizing the gameplay before the official commercial launch. Players and anime fans alike are welcome to join the testing now by registering to play the game at the official website:: http://pn2.game321.com