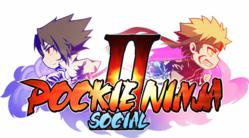 Ninja schools allow players to recruit and train ninjas for village building and combat
Hull, UK (PRWEB) May 16, 2012
Quality, aptitude and synthesis - these are the core elements to consider when crafting a ninja army in Pockie Ninja II Social.
The upcoming browser-based social game - launching exclusively on Facebook this summer - will let users recruit and even combine various types of ninjas to create their own unique, powerful army of combatants.
There will be 84 different ninjas to choose from when the game launches, which can be used for both village building and as part of a defensive/offensive force against other players.
Familiar faces such as Rin, Pyo, To, Sha, Kai, Jin, Retsu, Zai and Zen will all appear, as well as Naruto himself in his various forms.
Aptitude
Forget about attitude, picking ninjas in Pockie Ninja II Social is all about Aptitude. Ninjas are divided into four types of quality: blue, purple, red and gold; determined by the ninja's starting Aptitude rating.
The higher a ninja's Aptitude rating, the more attributes that can be boosted while upgrading their stats. Ninja's with higher Aptitude ratings have more potential to be a driving force in your army, so players should be sure to take the risks needed to seek them out.
Fan boys can rest assured - if a favourite ninja doesn't have a high enough Aptitude rating, players can improve this using Aptitude Pills acquired from the mall and in-game events.
Quality
Bagging the best quality ninjas is an important facet of Pockie Ninja II Social's gameplay, and each type of ninja (blue, purple, red and gold) can be acquired in different ways. Blue, purple, and red Ninjas can be recruited through ninja schools, ninja gift packs, ninja saga's, Facebook friends and more.
Ninja schools allow players to recruit and train ninjas for village building and combat. Upgrading the ninja school allows a better chance of recruiting higher quality ninjas.
Gold ninjas are a premium breed, and must be earned either through events, saga quests or the exciting Ninja Synthesis function.
Synthesis
When a village reaches Level 20 or higher, players can enter the warehouse in their village to create their own unique brand of ninjas. Any three ninjas can be combined and synthesized into a new one, with the quality of the new ninja determined by the level and attribute qualities of the ninjas used.
Using high quality ninjas might be risky, but it could result in a new gold ninja to add to an army - a risk well worth taking.
Launching this summer, Pockie Ninja II Social is an innovative browser-based social gaming experience. Based on the storyline of Naruto, the gorgeous upcoming anime game combines village building and strategic battles to create an exciting, brand new ninja world for players to explore and conquer.
An intriguing friends system lets players invade, rescue, assist and form alliances within their social network.
Keep up to date with the latest information at the official game site: http://www.PN2Social.com
Follow Pockie Ninja II Social on social networks for exclusive up-to-the-minute info and trailers.
Facebook: http://www.facebook.com/PN2Social
Twitter: http://twitter.com/#!/PN2Social
Youtube: Pockie Ninja II Social--CG (Part 1)
http://www.youtube.com/watch?v=GuYrQKhG1cQ&feature=youtu.be
Sign up and play the original Pockie Ninja for free at the official website: http://www.pockieninja.com
About Pockie Ninja II Social
Launching this summer, Pockie Ninja II Social is an online Q-version social strategy game developed by NGames Co.Ltd. Inspired by storylines from the popular Naruto anime series, players will be able to interact, build and battle with iconic anime characters as they strive to create and dominate a new ninja world.
Pockie Ninja II Social tasks players with creating and managing their very own ninja village. Starting as the founder and leader of a community of ninjas, players can build their village from scratch, developing a strong economy and recruiting other ninjas to act as the village's offensive and defensive army.
Pockie Ninja II Social is the spiritual successor to the hugely popular MMO, Pockie Ninja.