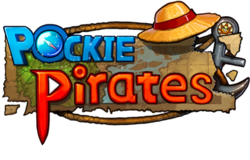 the difficulty level lowered following feedback from the lively Pockie Pirates player-base
Hull, UK (PRWEB) September 18, 2012
Launched late August, Chapter 3: The Royal Seven has flooded the world of Pockie Pirates with brand new islands, dangerous new adventures and powerful new crew members - as well as introducing a host of gameplay improvements.
The notoriously challenging Impel Down instance - a daily underwater prison that pits players against 10 groups of increasingly difficult enemies - has been refined and the difficulty level lowered following feedback from the lively Pockie Pirates player-base.
"Impel Down is still the toughest instance in the Pockie Pirates world, but we've given pirates a much higher chance of success thanks to the introduction of a new Trail System," commented Ivy, NGames Limited PR Manager.
Between each wave of battle, players can now activate the Trail System and enhance their core character attributes 'on-the-fly' through the use of Trial Points, Medals of Honour, and Medals of Growth - earned after defeating each wave of enemies during the Impel Down adventure.
Character attributes are assigned to three independently upgraded colour-coded loops. By spending the Medals and Trail points, players can choose how they wish to enhance their pirate for the next wave of enemies. The further they progress, the stronger their pirate becomes.
---
Featuring a brand new Schibukai system – a powerful player led government with seats earned through constant tournaments – new All Blue adventures and major gameplay optimizations, "Chapter 3 – The Royal Seven" is the biggest and best Pockie Pirates expansion to date.
Join the race to become the King of the Pirates by joining Pockie Pirates on Game321 today: http://pirates.game321.com/