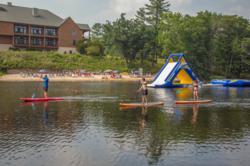 Zip-lining, paddleboarding and renting a bike from a share program are three of the most popular activities for travelers planning to try something new, and all happen to all be offered in the Pocono Mountains.
POCONO MOUNTAINS, Pa. (PRWEB) May 30, 2013
The Pocono Mountains (PoconoMountains.com), a long-time favorite driving destination for travelers and outdoor enthusiasts, expects a positive upcoming summer season due to its proximity and cool offerings to major East coast cities. With longer than expected waits at airports and rising costs of flying, many travelers are staying closer to home. The Pocono Mountains is only 90 minutes from both New York City and Philadelphia, and less than four hours from Boston and Washington, D.C. making the region an ideal driving destination for families.
A survey by TripAdvisor®, the world's largest travel site, reports of its 2013 summer travel survey* of 1,200+ U.S. respondents, 86 percent are planning a leisure trip this summer. Driving trips to close-to-home destinations are their preference at 74 percent. Carl Wilgus, president/CEO of the Pocono Mountains Visitors Bureau states, "With one-fourth of the United States population within a four hour drive of the Pocono Mountains…we stand in a good position to take advantage of this trend."
"The survey indicates that more people are planning leisure trips this summer, notably as prices at the pump continue to decline year-over-year, " said Brooke Ferencsik, director of communications for TripAdvisor. "Whether they plan to shop, swim or just enjoy the great outdoors, prospects of sunshine and warmer weather have U.S. travelers looking ahead to summer trips."
The TripAdvisor® report also showed that zip-lining, paddleboarding and renting a bike from a share program are three of the most popular activities for travelers planning to try something new, and happen to all be offered in the Pocono Mountains. Furthermore, the region boasts three of the top five most popular summer destination types, countryside, national park and lake, referenced in the survey. This summer, visitors can beat the city heat and cool off at one of the region's many lakes, rivers, waterfalls or waterparks. Camelbeach Waterpark offers everything from mild to wild with adrenaline-filled waterslides and areas to lounge by the pool, and it also happens to be PA's largest waterpark.
The Shawnee Inn and Golf Resort is offering guests an array of recreation on the Delaware River. In addition to traditional kayak and canoe trips, the resort has added sit-on-top kayaking and two moonlight paddling options. Paddlers depart at 8:00 p.m. and paddle around Shawnee Island or leave a bit earlier and paddle to Shawnee's private island where a campfire and s'mores will be waiting.
Similar to the moonlight paddle, Pocono Whitewater is bringing back a crowd favorite after-dark river adventure with moonlight rafting. Guests whitewater raft down the Lehigh River after sunset and return after the excursion for a bonfire with marshmallows for roasting, wine, cheese and crackers.
Trending among growing watersports, stand-up paddleboarding makes its way to the Pocono Mountains on both the Delaware River and at Skytop Lodge. Traditional water adventures such as canoeing kayaking, rafting and tubing can be found on the Delaware River through Kittatinny Canoes. Whitewater Challengers offers whitewater rafting and kayaking on the Lehigh River. Both outfitters have exciting offerings allowing visitors to get the most of their visit to the Pocono Mountains with river trips and land adventures such as paintball and zip-lining.
Lake Wallenpaupack, one of the largest lakes in PA, is once again participating in Cabela's Fish for Millions contest. The contest gives anglers a shot at up to $2 million in cash and nearly $275,000 in prizes by catching tagged fish. Rules and requirements, as well as contest details and registration information, can be found at the contest website, cabelas.com/fishformillions.
With more than 150 lodging properties, the Pocono Mountains is bound to have your perfect accommodation. From all-inclusive family-owned resorts and boutique hotels to quaint inns and bed and breakfasts, the Pocono Mountains' hotel collection is as diverse as the destination itself. Splurge on one of our four-diamond resorts or stretch the buck a bit further at a favorite moderately priced venue. Whatever the price point, there's an option in every part with access to nature and refreshing attractions.
For more information on the Pocono Mountains, visit PoconoMountains.com, where you can also find outdoor adventures to cross off your bucket list such as biking the 25-mile scenic Lehigh Gorge, skydiving, parasailing, stockcar racing and more. To view the multimedia assets associated with this survey, please visit multivu.com/mnr/57955-tripadvisor-survey-reveals-memorial-day-and-summer-travel-on-the-rise.
About the Pocono Mountains
With 2,400 square miles encompassing Pennsylvania's Carbon, Monroe, Pike and Wayne counties, the Pocono Mountains region is home to rolling mountain terrain, breathtakingly beautiful waterfalls, thriving woodlands and 170 miles of winding rivers. Winters offer guests the opportunity to ski, snowboard, snow tube and even snowshoe their way through snowy wonderlands encompassing over 163 ski trails, while summers also cater to the active traveler allowing exploration of 261miles of hiking and biking trails, over 30 golf courses, whitewater rafting, boating, fishing and open access to nine state and two national parks.
Any time of year is a good time to visit the Pocono Mountains, located within driving distance of most major East Coast cities. This region teeming with history offers year-round cultural tours and art exhibitions, abundant antiquing and brand-name shopping and a full calendar of festivals showcasing the heritage, music and food of the Pocono Mountains.
Even the most discerning traveler will find comfortable accommodations in the Pocono Mountains, which offers an eclectic mix of resorts, distinctive properties and quaint, country inns and bed and breakfasts.
Pocono Mountains visitor information is available online at PoconoMountains.com or by phone at 800-POCONOS (800-762-6667). Follow @PoconoTourism on Twitter to stay current with up-to-date information. Established in 1934, the Pocono Mountains Visitors Bureau is a private, non-profit, membership organization. The Pocono Mountains Visitors Bureau is the official destination marketing organization for the four counties of Carbon, Monroe, Pike and Wayne in northeastern Pennsylvania.