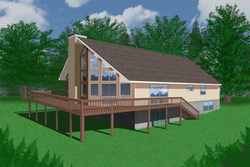 We wanted a way for property owners in the Poconos to truly get the house of their dreams
Gouldsboro, PA (PRWEB) April 26, 2011
In an effort to highlight the quality custom home building services of AR-Tech Homes, they have teamed up with Big Bass Lake Realty to provide a discount on new home construction in the Poconos. Purchasing a lot through Big Bass Lake Realty will qualify the buyer for a discount on the design and construction of their new home through AR-Tech.
"We wanted a way for property owners in the Poconos to truly get the house of their dreams" said Mike Crawley, president of AR-Tech Homes. "With this new program, those looking to build a new home in the Poconos can get a package deal with a spacious lot and a home that fits their exact specifications."
AR-Tech homes has been serving the Poconos area since 1982, specializing in custom floor plan creation, new home construction, and home remodeling services. AR-Tech can even help customers get the financing needed to start the new home construction process. Promoting their services alongside of Big Bass Lake Realty will spur interest in the area among those looking to build vacation homes in the Poconos. For more information, please visit http://www.artechhomes.com.
Big Bass Lake Realty has been selling Poconos Real Estate since 2002 and has helped hundreds of families find the perfect property for their vacation or second home needs. In addition to real estate sales, Big Bass Lake Realty is a great source for vacation home rentals any time of year. For more information about available rental homes in the Poconos, please visit http://www.bigbasslakerealty.com/rentals-list.php
###