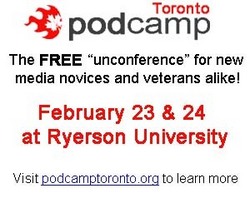 PodCamp is a great way for new media beginners and experts to meet and learn from each other
Toronto, ON (PRWEB) February 8, 2008
PodCamp Toronto 2008, a two-day conference exploring the world of new media community tools, is taking place February 23-24, 2008 at the Rogers Communication Centre at Ryerson University in Toronto.
"PodCamp is a great way for new media beginners and experts to meet and learn from each other," said PodCamp Toronto Co-organizer Jay Moonah.
PodCamp Toronto 2008 will bring together professionals and hobbyists from across North America to explore the cutting-edge of new media. Key features of the event include:

PodCamp Toronto 2008 is an "unconference." Unconferences are events where participants, rather than the organizers, create and manage the content of the sessions.
PodCamp Toronto 2008 is a free event. Costs are offset by the event's sponsors.
Anyone can register to deliver a session or volunteer to help by signing up at PodCampToronto.org. Sessions can be on any aspect of social media.
"There's no better way to learn about social media," said PodCamp Toronto Co-organizer Dave Fleet. "Whether you want to learn about podcasting basics or how organizations can use social media, this the place to be."
Over 260 people have already registered to attend the conference, and people have signed-up to host more than 30 sessions.
This is the second PodCamp to be held in Toronto. The first was held in February 2007. Over 300 people attended the event. The first "PodCamp" took place in Boston in 2006. Since then, the format has become popular worldwide.
Learn more about PodCamp Toronto 2008 by visiting the event wiki, the PodCamp Toronto 2008 blog and podcast or by checking out related links on del.icio.us.
###