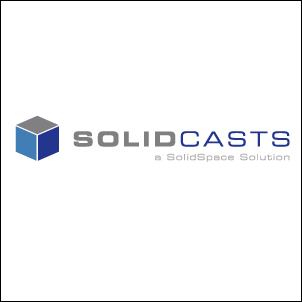 Kim has aways dreamed of having her own cooking show, and I love to eat. Figuring out how to make our show available for others to watch was daunting
Winston Salem, NC (PRWEB) October 16, 2006
Winston-Salem, NC (PRWEB) October 16, 2006 -- SolidSpace, a leading provider of dynamic hosting infrastructure and developer of intuitive web-based collaborative technologies, announced today that they are offering free 100 MB audio and video podcast hosting accounts, for life.
The SolidCasts podcast management system provides services such as file upload, episode scheduling, RSS and iTunes feed creation, and reporting on statistics such as download and subscription counts. SolidCasts is one of the only podcast management and hosting providers that support video podcasts in MPEG-4 and MOV formats. Other services with video podcast hosting support offer short trial periods, but eventually require a monthly payment. SolidCasts offers accounts with 100 MB free, forever. Additional memory space can be purchased for as little as $12.95 per month for 1 GB of space.
Since the launch of SolidCasts, many people have found a variety of ways to use their podcast management account. Cory and Kim Souders chose SolidCasts to produce a cooking show entitled Tales from the Back Burner. In it, Kim demonstrates how everyday people can use their leftovers to make delicious new meals. Their podcast is filmed in their kitchen with common ingredients and kitchen utensils with their dogs waiting at their feet for something to be dropped on the floor.
"Kim has aways dreamed of having her own cooking show, and I love to eat. Figuring out how to make our show available for others to watch was daunting," said Cory Souders, producer of Tales from the Back Burner. "SolidCasts was fun and easy for us to get going. We can even add episodes to the iTunes podcast directory through SolidCasts to draw a larger audience to our blog."
SolidCasts' audio and video podcasting hosting is also used in the enterprise for purposes as varied as orientation, training and corporate communications. InterAct Public Safety Systems, a leading provider of mission-critical public safety and homeland security products and services has chosen SolidCasts to house orientation videos that employees are required to watch to comply with ISO 9000 standards. InterAct's marketing team has also recorded a number of short videos as a training reference for the sales team to learn new applications. Employees download the video podcast to their computers, and can view them at any time directly from their machine or video enabled handheld devices like an iPod. By subscribing to the RSS feed, they receive critical update videos as soon as they are available.
Please visit the SolidCasts site for more informaiton about podcast hosting or to sign up for a free podcast management account.
About Tales from the Back Burner
http://www.backburnertales.com
About InterAct Public Safety Systems
About SolidSpace, LLC
SolidSpace LLC is a leading provider of dynamic hosting infrastructure and client support that includes website, application and database hosting, managed services, collocation and broadband services, as well as intuitive web-based collaborative technologies such as chat and instant messaging, podcast management, and web surveys. Through the software as a service format, users are empowered to easily maintain a powerful, interactive web presence that boosts visibility and customer attraction. SolidSpace LLC is headquartered in Winston-Salem, N.C., and is a portfolio company of SilkRoad Equity LLC (http://www.Silkroadequity.com). SolidSpace divisions include Pendulab, the developer of the AffiliateShop affiliate management products, ChatBlazer Enterprise real-time communications tools and InstantEngage live customers service chat products. For more information, visit http://www.solidspace.com.
###