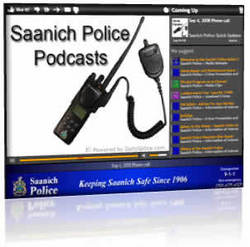 Podcasting is the fastest growing communication medium in history … The Saanich Police want to be part of that medium.
Victoria, BC (PRWEB) September 16, 2008
Victoria's Saanich Police are targeting the iPod generation, becoming Canada's first podcasting police, and among the first in the world to use online multimedia to keep in touch with the community.
What's prompted a police department to go web 2.0? It's a new and innovative technology developed by DailySplice.com called Splice Stations. A Splice Station is a podcast system for organizations that makes it easy to find, gather, and broadcast multimedia through their website. In other words, it makes social media so easy that even the cops are joining in.
The police department has already prepared over 50 media clips ranging from safety tips to surveillance videos of unsolved crimes. These clips will start appearing on their website along with regular media updates recorded on location over the phone by the department's public information officer Sgt. John Price. "Podcasting is the fastest growing communication medium in history … The Saanich Police want to be part of that medium." says Price. "We already use our web site, local, provincial and national media, and our Block Watch program to release information to our community- now we are hoping this new technology will add to our efforts."
DailySplice, who is celebrating their 1st birthday today, has also caught the attention of AbeBooks.com and the University of Victoria with their new technology. Using their Splice Station, AbeBooks.com is aggregating the best in online audio and video related to books and channeling it through a specialized player on their website. "It's innovative and easy to use." says Richard Davies, PR Manager for AbeBooks.com. Book lovers can find the world's most interesting book reviews and interviews by visiting the Abebooks.com website and looking for the "Shelfsound" logo.
The University of Victoria has launched two Splice Stations, one that plays business podcasts, and one that plays Software Engineering podcasts. Both Stations combine content that has been produced by the University of Victoria with related content that can be found elsewhere around the world.
"What makes Splice Stations different from any other podcast system is that it does not require an organization to produce and upload their own content." says the company's co-founder Rian Bowden. According to Bowden, there are hundreds of thousands of free podcasts already on the Internet on just about any topic you can think of. Splice Stations utilize all this free content to create low maintenance communications tool that delivers up to date information on a given topic to their website visitors.
DailySplice's mission is to modernize the concept of radio by creating customized stations that you can play online or subscribe to through email. The company was founded in 2007 by a group of business and computer science students at the University of Victoria. The company has won multiple awards, and has launched a number of innovative products in its first year. DailySplice has received attention from clients and investors around North America, and looks forward to rapid growth as its technology gets adopted.
Definitions:
Podcast: A digital recording of an audio or video broadcast delivered over the Internet.
Splice Station: A podcast system that allows organizations to easily find, mange, and broadcast multimedia through their website.
Web 2.0: The modern Internet that values interaction, collaboration, and user generated content.
Social Media: Online applications, platforms and media which aim to facilitate interaction, collaboration and the sharing of content.
For more information on DailySplice or any of the above mentioned organizations contact:
DailySplice (Rian Bowden, CEO)
Phone: +1 (250) 885-5303
Email: rian @ dailysplice.com
Web: splicestations.com (info on Splice Stations) or dailysplice.com (Main site)
Saanich Police (Sgt. John Price, Public Information Officer)
Phone: +1 (250) 883-0857
Email: jprice (at) saanichpolice.com
Web: saanichpolice.com/podcasts.html
AbeBooks (Richard Davies, PR Manager)
Phone: +1 (250) 412-3238
Email: rdavies (at) abebooks.com
Web: abebooks.com/docs/NewBooks/
UVic Business (Dianne George, Communications and Special Projects)
Phone: +1 (250) 721-6411
Email: Buscomm (at) business.uvic.ca
Web: business.uvic.ca/
UVic Software Engineering (Jens Webber, Program Director)
Phone: +1 (250) 704-6855
Email: jens (at) uvic.ca
Web: bseng.uvic.ca/
###