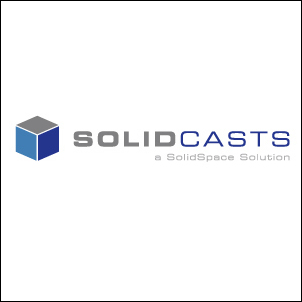 Broadband is finally at the point where people can sufficiently stream video to their desktops
Las Vegas, NV (PRWEB) January 8, 2007
SolidSpace LLC, a leading provider of dynamic web hosting infrastructure and developer of intuitive web-based collaborative technologies, today announced that new features have been added to SolidCasts, the first truly business-centric enterprise podcast management system for both audio and video. Available for demos in Pod J in the Podcasting Tech Zone at the 2007 CES Show in Las Vegas, SolidCasts is a free, easy-to-use multi-platform, cross-format system that now offers:
Secure Password Protection- Businesses can now arrange for podcasts to be released in a secure environment. Current management tools on the market do not limit who has access to a podcast, but with SolidCasts businesses can now control who views the content. For example, HR departments can issue podcasts on a company's intranet that reaches specific employees without worrying that the general public can gain access.
Futurecasting- Users can arrange podcasts to "go live" at a programmed time. Unlike typical services that automatically broadcast podcasts the moment they are uploaded, SolidCasts offers businesses the flexibility to deliver podcasts to coincide with their needs in true broadcasting fashion.
Authoring Tools- SolidCasts takes customization to the next level by enabling users to attribute a podcast to another author. Current podcasting tools require that the individual uploading a podcast is automatically the designated creator, but with SolidCasts businesses can now involve other members of the company to take advantage of podcasting without going through the steps of creating separate accounts.
With an increasing number of businesses utilizing "new media" such as blogging and social networking outlets, podcasting plays an important role in helping businesses raise their level of visibility and more effectively reach their audience. With SolidCasts, companies can use any podcasting format they choose and dynamically manage their level of effectiveness, whether it is Mac or PC.
Leading high-end auction site, Mastro Auctions, recently began leveraging SolidCasts to create a more dynamic auctioneering process. With items ranging from Elvis' hair to Rosa Parks' bus, podcasting offers collectors an in-depth look at items up for bid, more effectively illustrating the true nature of the items than still photos. For example, Mastro Auctions sold the Cook County gallows during a recent auction that utilized SolidCasts. Due to the item's uniqueness, podcasting gave bidders a better understanding of what the gallows entailed, leading to its purchase by Ripley's Believe It or Not for $68,000.
"Broadband is finally at the point where people can sufficiently stream video to their desktops," said Doug Allen, president of Mastro Auctions. "Also, people are now truly using their iPods as a business tool. We have found that an overwhelming number of collectors are subscribing to RSS feeds, automatically receiving video highlights of the latest items that have been added to the next auction, and placing higher bids than ever before. We directly attribute this success to SolidCasts and look forward to watching this trend grow."
SolidCasts provides simplified file uploading, analytics in areas such as downloads and subscription counts and is also one of the only podcast management and hosting providers that supports video podcasts in MPEG-4 and MOV formats. Podcasts are hosted by SolidSpace and then SolidCasts generates a simple line of code that users can publish to their Web site or blog. Site visitors are then able to subscribe to RSS and iTunes feeds of the podcast episodes. SolidCasts also allows users to assign iTunes categories to their podcasts and easily submit the feed to be included in the iTunes Directory.
"Today's businesses are faced with many challenges when it comes to rising above the competition and truly connecting with customers," said Jim Capps, president of SolidSpace LLC. "SolidCasts offers companies a more impactful way to deliver their message and effectively monitor the reach of their podcasts. Like with any marketing campaign, it's crucial that businesses are able to spend less time trying to figure out complicated technology and more time managing the effectiveness of their efforts. SolidCasts provides exactly that, enabling companies to fine-tune their plans as needed."
SolidCasts is free for the first 100 MBs and for $12.95 per month users can have access to 1 GB of space. To learn more or to see a demo, visit SolidSpace in booth Sands 69827J, January 8-11 at the 2007 CES Show. To sign up for an account visit http://www.solidcasts.com.
About SolidSpace, LLC
SolidSpace LLC is a leading provider of dynamic hosting infrastructure and client support that includes website, application and database hosting, managed services, collocation and broadband services, as well as intuitive web-based collaborative technologies such as chat and instant messaging, podcast management, and web surveys. Through the software as a service format, users are empowered to easily maintain a powerful, interactive web presence that boosts visibility and customer attraction. SolidSpace LLC is headquartered in Winston-Salem, N.C., and is a portfolio company of SilkRoad Equity LLC (http://www.Silkroadequity.com). SolidSpace divisions include Pendulab, the developer of the AffiliateShop affiliate management products, ChatBlazer Enterprise real-time communications tools and InstantEngage live customers service chat products. For more information, visit http://www.solidspace.com.
About Mastro Auctions
Mastro Auctions of Burr Ridge, Ill., is the leading high value collectibles auction company. The company has sold many of the most famous and valuable sports and Americana collectibles ever offered to the public, including the most expensive baseball card in history, the T206 Honus Wagner which sold for nearly $1.3 million, Norman Rockwell's "The Dugout" for $355,000, Roger Maris' 1961 jersey he wore when he hit home run #61 for $302,000, the bus Rosa Parks rode on when she refused to stand for segregation for nearly $500,000 and the famous Steve Bartman Cubs foul ball for over $100,000. To learn more, visit http://www.mastroauctions.com.
###