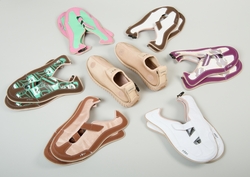 Why have one shoe, when you can have one shoe that you can change into many shoes...for the price of one shoe!
Chicago, IL (PRWEB) March 16, 2010
PODI, which is the Greek word for foot, is a revolutionary shoe design which allows the consumer interchangeable footwear cover/upper options. This application is directed to interchangeable uppers for use with footwear. Advantageously, a user can easily interchange uppers from an article of footwear, such as a shoe (i.e., a running, cross-training, hiking, walking, golf, soccer, bowling, clog, boot, skate, or sandal, etc.) thus allowing various looks, styles, materials and designs.
PODI, is currently selling their original shoe Men's and Women's online only. The consumer currently has many cover options to choose from even designing there own with our all white canvas cover. To purchase online you chose your Base Shoe size and covers and it is all shipped to your door within a nylon PODI Backpack "no shoe boxes at PODI".
For now PODI markets and advertises primarily on the web through; http://www.youtube.com/podiwear, http://www.facebook.com/podiwear and http://www.twitter.com/podiwear
The viral spot "Bank Robber Out Smarts Police with PODI Shoes" was shot in the Financial District downtown Chicago on the same block as the "flipped bus scene" in the latest Batman movie.
By this summer PODI should have there second line of shoes using the allowance of the utility patent. Now that PODI has the allowance they will begin discussions with a retail chain that fits there Brand.
PODI is having a Spring Break Sale, which is your Base Shoe, three covers of your choice and free delivery to your door for $79.99. This is for a limited time only.
For more information or how to purchase PODI shoes please visit http://www.podiwear.com.
###