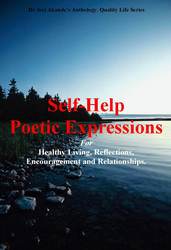 "Strikingly different from any earlier books, is the fact that this book has exclusive sections that are dedicated to women in introspective poems about how beautiful women are", Dr. Joel Akande, said
(PRWEB) May 4, 2010
Quoting verses from the book, the Founder and CEO of Myeexpert, Dr. Joel Akande, told reporters that these lines herald the acoustic and reflective splendor of women in Poetic Expressions:
"…The young rose sprouts from the branch
emerging into the world, in glorious delight.
A beauty that glows from start into tenderness
In gingerly teen a magnificent grace
Luxurious to become the desire…"
He went further: "strikingly different from any earlier books, is the fact that this book has exclusive sections that are dedicated to women in introspective poems about how beautiful women are. Other parts that are peculiar to this book are sections on healthy living, family, and relationships", Dr Joel Akande, said while briefing newsmen in London, United Kingdom.
He added that, in a joint venture with Strategic Insight Publishing, there are other complementary books to Poetic Expressions in Myeexpert's book publications catalog. He said, "Mutual Arousal (Encouragement Words) as well as Quick Quotes for Empowerment, Romance and Healthy Living are additional books to enhance love affairs and to build harmonious family relationships".
He concluded that "Myeexpert, meanwhile provides 24/7 or round-the-clock free online counseling to support individuals in their personal, professional, business and relationship issues".
Dr. Akande took the opportunity to confirm to reporters, what many industry insiders had long suspected that, Myeexpert was planning a platform to provide a search-able online database of experts on various subjects from all over the world. He concluded, "The free- to- use database is hosted on Myeexpert website and server".
Myeexpert.com, Word and Happiness Institute and Strategic Insight Publishing are units of Strategic Insight Solutions Ltd specializing in healthcare, healthy living, legal analysis and research, book publishing, online counseling as well as business management.
For more information:
If you would like more information or to schedule an interview with Dr. Joel Akande., please contact Joel through P.O Box 56417, London SE3 8XY, Tel: (44) 2088568513. Website: http://www.myeexpert.com.
# # #