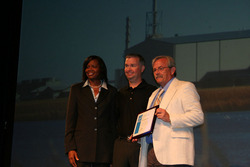 EPA is proud to recognize the outstanding pollution reduction and energy efficiency qualities of both ethanol facilities by presenting these ENERGY STAR Combined Heat and Power Awards. These facilities in Iowa and Kansas are making improvements that contribute to a cleaner, healthier environment
Sioux Falls, SD (Vocus) June 17, 2008
An energy efficiency in POET's ethanol production facility near Ashton, Iowa, that saves 18,900 tons of CO2 emissions per year earned an Energy Star Combined Heat & Power Award from the U.S. Environmental Protection Agency (EPA). The facility is equipped with combined heat and power (CHP) that generates up to 7.2 MW of electricity and requires 16 percent less fuel than a conventional process.
POET Biorefining – Ashton generates electricity onsite with a natural gas-fired turbine. Heat recovered from the turbine's exhaust produces 56,000 pounds of steam per hour to support ethanol production. This CHP system, also known as cogeneration, requires approximately 16 percent less fuel than typical onsite thermal generation and purchased electricity. The EPA estimates that the CO2 savings from this system is equivalent to removing the annual emissions from 3,100 cars or planting 3,900 acres of forest.
"Ethanol is the only available opportunity to decrease greenhouse gas emissions from our existing fleet of vehicles," said Jeff Broin, CEO of POET. "At POET, we are dedicated to making the process of producing ethanol even more efficient and environmentally friendly so it's an honor to be recognized by the EPA for the environmental benefits of the efficiencies built into our Ashton plant."
POET was one of two ethanol plants to receive the award at the Fuel Ethanol Workshop in Nashville, Tenn. "EPA is proud to recognize the outstanding pollution reduction and energy efficiency qualities of both ethanol facilities by presenting these ENERGY STAR Combined Heat and Power Awards. These facilities in Iowa and Kansas are making improvements that contribute to a cleaner, healthier environment," said EPA Region 7 Administrator John B. Askew."
POET Biorefining – Ashton began production in April, 2004 near Ashton, Iowa. The ethanol production facility processes about 16 million bushels of corn into 56 million gallons of ethanol and 141,000 tons of Dakota Gold® Dried Distillers Grains each year.
This ENERGY STAR award recognizes projects that reduce emissions and use at least five percent less fuel than state-of-the-art comparable separate heat and power generation. To apply, projects must be in commercial operation, operating within the emission limits stipulated in their permits, and have a minimum of 12 months and 5,000 hours of measured operating data.
About POET
The largest ethanol producer in the world according to the Renewable Fuels Association, POET is an established leader in the biorefining industry through project development, design and construction, research and development, plant management, and marketing. The 20-year old company currently operates 23 production facilities in the United States with three more in construction or under development. The company produces and markets more than 1.3 billion gallons of ethanol annually. For more information, go to http://www.poetenergy.com.
CONTACT:
Nathan Schock, Director, Public Relations
Phone: (605) 965-6428 Mobile: (605) 759-4802
E-mail: nathan.schock @ poetenergy.com
# # #