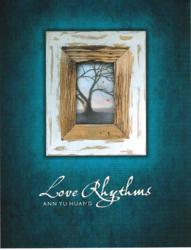 Life is experience. It is emotion-filled and challenging, and needs to be reminisced through the rearview mirror of it.
(PRWEB) June 06, 2012
Finishing Line Press is proud to announce the publication of their newest poetry chapbook, Love Rhythms, due out September 8th. The poetry chapbook, part of Finishing Line's critically acclaimed Chapbook Series, is by Newport Beach author and entrepreneur, Ann Yu Huang.
The poems in Love Rhythms are intended for readers to take time to reflect on their lives instead of speeding through it. "Life is experience," says author Ann Yu Huang. "It is emotion-filled and challenging, and needs to be reminisced through the rearview mirror of it. Surreal and sensuous, wise and beautiful, the emotional core felt under the surface of the page is meant to elucidate surprising sentiments by mingling dreams and reality."
"Ann Huang's stunning collection Love Rhythms is deftly written and elegant in utterance. Huang's skill as a poet makes this an unforgettable collection," writes Leah Maines, author of the regional best-seller Looking to the East with Western Eyes.
"Ann Huang's poems evoke the dreamscape of someone living in suspension—between homelands and within the changing currents of love. Through her vision, colored by exile and desire, details in the everyday world take on clarity and startling, exquisite strangeness. She makes the world anew," says poet Leslie Ullman, author of the Iowa Poetry Prize Winner Slow Work through Sand
Ann Yu Huang was born in Shanghai, China and moved to Mexico when she was a teen. She graduated from Baruch College of the City University of New York cum laude and has co-founded her own branded business Nature Bright Company. She is currently a candidate of MFA program in poetry at Vermont College of Fine Arts. She has studied with Poets and Writers Michael Steinberg, Barbara DeMarco-Barret, Nahid Rachlin, Gerald Costanzo, Jean Valentine, Rigoberto Gonzalez, and Leslie Ullman.
Finishing Line Press is a poetry publisher dedicated to providing a place for today's poets since 1998 and is based in Cincinnati, Ohio and Georgetown, Kentucky. In addition to the Poetry Chapbook Series, it publishes the New Women's Voices Series and sponsors the Finishing Line Press Open Chapbook Competition, Finishing Line Press and editor Leah Maines were features in both the 2001 and 2002 Poet's Markets.
Poetry chapbook Love Rhythms is now in pre-publication sales from the publisher. It is 17 pages, 6' by 9' size, soft-cover chapbook. Cover art is by New Zealand design firm Curious Design, and author photograph, by local artist Greg Figge. Retail price is $15.99 (postage included). The book is available by direct retail from Finishing Line Press, P. O. Box 1626, Georgetown, KY 40324.
Publication Date: Sept 8, 2012
ISBN: 978-1-62229-003-1
Media contacts:
Leah Maines, Sr. Editor
Ph:859-514-8966
Email:LeahMaines(at)aol(dot)com
Ann Yu Huang, author, 949-280-5290 or aywhuang(at)gmail(dot)com
Finishing Line Press
PO Box 1626
Georgetown, KY 40324
Email:flpbookstore(at)aol(dot)com
Ph:859-514-8966
http://www.finishinglinepress.com/