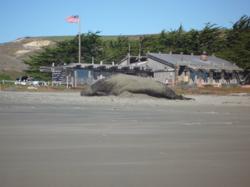 During the winter holidays, the gray whales will begin to migrate, the elephant seals return and the salmon spawn at Point Reyes.
Point Reyes, CA (PRWEB) December 02, 2012
Wildlife watching returns to Point Reyes during the winter holidays. The gray whales migrate past the point, the elephant seals return to the Point Reyes Headlands, and the salmon swim up the various streams to spawn. But also plan your visit accordingly. The Park Service will be stopping auto traffic at Drakes Beach and running five-dollar shuttles to the Point Reyes Lighthouse and Chimney Rock.
The winter often bring pleasant days and the beaches and hikes are as pleasant as ever. Just bring another layer and get started a little earlier. Once the sun goes down early, it can get chilly. The winter also brings unique opportunities for those who want to see wildlife.
Whale Watching is best done from the Lighthouse and Chimney Rock. From the National Park Service web page:
"Engaging in the longest migration of any mammal, the California gray whale (Eschrichtius robustus) swims 16,000 kilometers (10,000 miles) each year, spending about one third of its life migrating from the cold, nutrient-rich waters of Alaska, to the warm, shallow lagoons of Baja California. Along the way, these incredible animals can often be seen from the shores of Point Reyes."
The Elephant Seals are also a popular site and can been seen from several points, with a favorite being Chimney Rock. From there, you can watch elephant seals on the beach hanging out and breeding. They are fun to watch as they lie and shift around in the sun. From the Chimney Rock parking lot, look for signs that direct you on a short trail heading south.
Lastly, the salmon run begins anywhere from mid-Dec to mid-January, depending on rain fall. SPAWN (Salmon Protection And Watershed Network) leads groups from the town of Lagunitas to find salmon that swam upstream and lay their eggs. The whole process is fascinating and newbies should take the tour as it can be difficult to find the salmon without an experienced eye. You can find out more at the SPAWN web site.