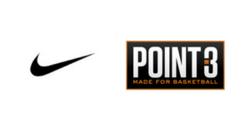 Atlanta, GA (PRWEB) October 04, 2011
Nike Inc. and POINT 3 Basketball, LLC announced today that they reached a mutually agreeable business resolution of a litigation that had been pending. The case was Civil Action No. 11-CV-2724 (New York Southern District Court) and has been resolved on a confidential basis.
"POINT 3 Basketball is pleased to have this litigation behind us and return our focus to the on-court apparel needs of basketball players," stated POINT 3 Basketball Founder and CEO Michael Luscher.
NIKE, Inc., based near Beaverton, Oregon, is the world's leading designer, marketer and distributor of authentic athletic footwear, apparel, equipment and accessories for a wide variety of sports and fitness activities. Wholly-owned NIKE subsidiaries include Cole Haan, which designs, markets and distributes luxury shoes, handbags, accessories and coats; Converse Inc., which designs, markets and distributes athletic footwear, apparel and accessories; Hurley International LLC, which designs, markets and distributes action sports and youth lifestyle footwear, apparel and accessories; and Umbro Ltd., a leading United Kingdom-based global football (soccer) brand. For more information, visit NIKEbiz.com/investors.
POINT 3 Basketball, LLC (http://www.point3basketball.com) is a performance apparel brand dedicated to evolution in basketball gear. Founded in 2010, POINT 3's exclusive focus on the on-court needs of the basketball player led to the development of DRYV Moisture Controlˇ, a Patent Pending textile technology designed to absorb moisture where ballplayers need it most. POINT 3 Basketball apparel can be found online at point3basketball.com and at sporting goods specialty retailers across the U.S.
###