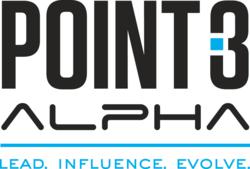 "It's exciting to see a company completely focused on the needs of the basketball player," offered Geoff Golden of Geoff Golden Basketball. "The gear and the program are truly one of a kind – I'm thrilled to be a POINT 3 Alpha."
Atlanta, GA (PRWEB) November 10, 2011
Today, POINT 3 Basketball announced the launch of its Alpha Program for basketball professionals. After spending more than six months interviewing hundreds of full-time basketball professionals, coaches and trainers, eleven have been selected to represent the company and its ongoing commitment to evolution in basketball.
The POINT 3 Alpha Program was created to identify and support basketball trainers who are leaders in their field and community, teaching the game with a focus on fundamental skills development, and strength and conditioning techniques specific to basketball. Alphas were selected based on their experience, training philosophies, geographic area and a history of fostering improvement amongst their players.
"There are a handful of basketball-specific trainers around the country who have dedicated themselves to evolving the way basketball players train," said Michael Luscher, Founder & CEO of POINT 3 Basketball. "We not only identify with their passion for the game, but their quest to lead, influence and evolve their industry."
Alphas will test and provide feedback on new POINT 3 styles and textile innovations made specifically for basketball, and host quarterly POINT 3 sponsored events for their customer base. The Alpha Program includes access to a library of online training videos, as well as quarterly planning seminars and tips to help grow the reach of each Alpha. Basketball players who train with Alphas can not only access the POINT 3 online training video library, but limited edition POINT 3 styles and special offers on basketball apparel.
"It's exciting to see a company completely focused on the needs of the basketball player," offered Geoff Golden of Geoff Golden Basketball. "The gear and the program are truly one of a kind – I'm thrilled to be a POINT 3 Alpha."
The inaugural class of POINT 3 Alphas is listed below. Their individual bios can be found online at http://www.point3basketball.com/alpha.html.

Keith Amerson: Basketball IQ (Westchester, NY)
Dorian Lee: Bball 101 (NE Atlanta, GA)
Nick DiPillo: Monroe Sports Center (Central NJ)
Brandon Payne: Accelerate Basketball (Charlotte, NC)
Geoff Golden: Geoff Golden Basketball (Denver, CO)
Wayne Washington: Nxt Level Hoops (Stafford, VA)
Andrew Harding: Harding Hoops (Washington, DC)
Jay Wells: Shooting Starz Academy (NW Atlanta, GA)
Dusty Holbrook: Holbrook Hoops (Houston, TX)
Mark Williams: Team Footprintz (New York, NY)
Antione Johnson: Got Game Athletic Co. (Westchester, NY)
POINT 3 Basketball (http://www.point3basketball.com) is the only performance apparel brand dedicated to evolution in basketball gear. Founded in 2010, POINT 3's exclusive focus on the on-court needs of the basketball player led to the development of DRYV Moisture Control(TM), a Patent Pending textile technology designed to absorb moisture where ballplayers need it most. POINT 3 Basketball apparel can be found online at http://www.point3basketball.com and at sporting goods specialty retailers across the U.S.
# # #