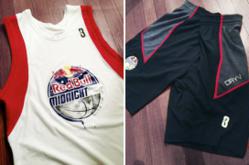 There's a lot of respect for those guys who advance, so they're going to play hard to earn a spot on the final roster.
Atlanta, GA (PRWEB) June 10, 2013
Last week, Red Bull kicked off its 9-city, 900 player Midnight Run basketball tournament in Washington, D.C., debuting new uniforms provided by POINT 3, featuring the apparel company's patented DRYV® Moisture Control basketball shorts. This week, the event hits POINT 3's hometown of Atlanta with a regional qualifying event at B.E.S.T. High School on Saturday, June 15th.
Red Bull has selected the top 100 basketball players from nine different cities, who will compete against each other for a shot to rep their city in the Midnight Run Finals, to be held at the Barclays Center, home of the Brooklyn Nets. Midnight Run qualifier events are scheduled to be held in DC (June 1), Atlanta (June 15), Chicago (June 22), with dates soon to be announced for NYC, LA, Philly, Indianapolis, Houston and New Orleans.
"It's going to be an exciting summer of basketball," said star point guard and Red Bull athlete John Wall. "This competition has guys that are going to battle it out in order to represent their city. There's a lot of respect for those guys who advance, so they're going to play hard to earn a spot on the final roster."
Each player will receive a Midnight Run customized uniform in Red Bull's signature colorways, featuring two of POINT 3's most popular styles – the BASE LT moisture wicking compression jersey and DRYV Baller shorts, the only basketball shorts with a built-in towel designed to keep ballplayers' hands dry on the court. These uniforms are only provided to Red Bull Midnight Run participants and not available for sale to the general public.

POINT 3 Basketball (http://www.POINT3Basketball.com) is the only performance apparel brand dedicated to evolution in basketball gear. Founded in 2010, POINT 3's exclusive focus on the on-court needs of the basketball player led to the development of DRYV Moisture Control®, a Patent Pending textile technology designed to absorb moisture where ballplayers need it most.
Red Bull Midnight Run is Red Bull's grassroots basketball event that will run from June through the fall. Current regional events are scheduled for June 1 in Washington, D.C., June 15 in Atlanta, June 22 in Chicago, July 13 in Philadelphia, July 27 in Houston, August 2 in New Orleans, and August 9 in Indianapolis (dates subject to change). The complete Red Bull Midnight Run schedule of dates, locations, and venues, along with event videos, images and content can be found online at http://www.redbull.com/midnightrun.