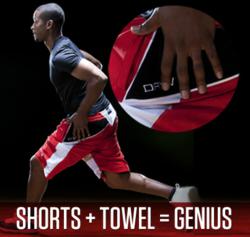 A Basketball Shorts Revolution Is Upon Us

- DIME Magazine
Atlanta, GA (PRWEB) August 30, 2012
Available today for the first time at http://www.POINT3Basketball.com, POINT 3 introduces two new styles of shorts featuring the patent pending DRYV® Moisture Control Technology designed specifically to keep players' hands dry while on the court. Here's what members of the basketball media who had pre-launch access to these shorts are saying:
"A basketball shorts revolution is upon us…we've played in them a ton and absolutely love them."

Dime Magazine, August 8, 2012
"POINT 3 Basketball is back with a brand new innovation in basketball shorts."

SLAM Magazine, August 8, 2012
"Evolving performance apparel for ballers of all shapes and sizes."

Sneaker Report, August 13, 2012
The first release of POINT 3 Basketball shorts in 2011 sold out in nearly all colors and sizes in less than nine months. Re-introduced in time for the 2012 basketball season POINT 3 offers two new shorts styles, both more 40% lighter than their predecessor and with construction features never before seen in basketball shorts.
DRYV LT – MSRP: $50.00

DRYV® Moisture Control Hip Panels
Bonded Seams
Ventilated Heat Zones
Weight: 8.8 oz (size L)
DRYV BALLER – MSRP: $35.00

DRYV® Moisture Control Side Panels
Contour Body Fit
Contrast Color Leg Panel
Weight: 8.1 oz. (size L)
The World's Best Basketball Shorts were debuted on August 8th at The Pit Summer League All-Star Game in West Philadelphia, widely known for having some of the best and toughest streetball action in the country. To see what players from The Pit thought of these new shorts and DRYV® Moisture Control, visit: http://www.youtube.com/watch?v=u4eFRHjSqJ0&feature=youtu.be
POINT 3 Basketball is the only performance apparel brand dedicated to evolution in basketball gear. Founded in 2010, POINT 3's exclusive focus on the on-court needs of the basketball player led to the development of DRYV Moisture Control®, a patent pending textile technology designed to absorb moisture where ballplayers need it most. POINT 3 apparel can be found online at http://www.POINT3Basketball.com.