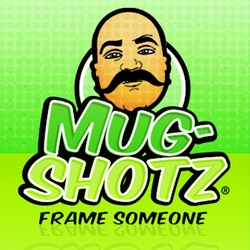 Washington, DC (PRWEB) March 28, 2009
PointAbout, Inc.'s Entertainment division announced today the release of the MugShotz iPhone application, which gives users the ability to take pictures of their friends and colleagues and turn them into superstars… or into felons, using an image library of over 70 items of flair.
Available for $.99 at the iPhone App Store or at http://www.MugShotzMobile.com, the MugShotz iPhone application allows anyone to email crazy MugShotz pics to their friends right from their phone.
The app is getting rave 5 star reviews from customers:
"I've always been a fan of photo-shopping pics of my friends, but this takes instant gratification to a whole new level. The first time I used this I seriously wasted a good 2 hours manipulating photos and pissed myself laughing on no fewer than 3 separate occasions."
Features of the MugShotz iPhone application include:

Flair Image Library (Hideous, huge teeth, all kinds of 'stashes, lots of bling, crazy hats, prison mugshot signs, sunglasses and much more)
Resize the flair
Rotate the flair
Save your MugShotz images to the phones camera roll
The MugShotz iPhone application was designed and developed by PointAbout, Inc. in Washington DC.
About PointAbout, Inc.
PointAbout (http://www.PointAbout.com) is a mobile software company with a platform that wraps robust web applications through a white-labeled thin-client springboard. This harnesses the power of a native application while maintaining the flexibility of the web. With PointAbout, companies can create mobile applications across multiple devices, operating systems (iPhone, Android, Windows Mobile, Blackberry, Symbian) and carriers without any ramp-up time, no need for proprietary programming expertise and little or no re-development of their content.
# # #