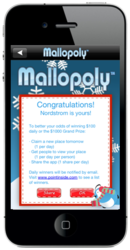 Bellevue, WA (PRWEB) November 30, 2011
Point Inside, Inc. (http://www.pointinside.com) today announced the launch of the Holiday Edition of its new in-app game, Mallopoly™. By "claiming" places in the app, such as Nordstrom in the Bellevue Square Mall, players become eligible to win the Daily Prize of $100 and the Grand Prize of $1000. Players receive additional entries in the random drawing when another person visits their place inside the app or the player shares the app with another person.
"This is an exciting step forward in the evolution of our shopping and travel app," says Josh Marti, CEO at Point Inside. "We've had a tremendously positive response since we launched the latest version of the Point Inside Shopping & Travel app with hundreds of thousands of deals. Now we're creating a completely new level of shopper engagement by adding a very rewarding game to the app."
The gameplay and rules are simple. A player gets an entry into the daily drawing when they "claim" one of the millions of places in the Point Inside app. Additional entries are gained from people visiting that place and sharing the app with friends. Winners for the daily $100 American Express® Gift Card are randomly drawn from the previous day's entries. All entries through December 31, 2011, are eligible for the Grand Drawing of a $1000 American Express Gift Card. Mallopoly started Tuesday, November 29, for Android platforms; iPhone will be available shortly following iTunes App Store approval.
"This Holiday Edition of Mallopoly is the first of many for the game. We see it as another way to make more shoppers aware of great deals in both their local areas and in the stores they like," says Marti.
The Point Inside Shopping & Travel app features include:

Hundreds of thousands of deals by location and venue, such as a specific mall or selected geographic areas
Special offers from national brands and local retailers
Listings of millions of retailers searchable by location and category including clothing and electronics
In-venue navigation features with routing
Maps of over 1300 shopping malls, airports, theme parks and other venues.
Store and shop directory information including store hours, contact information and special events
Complete list of services including restaurants, restrooms, ATMs, parking, elevators, escalators, rental cars, gates and ticketing counters.
Driving directions to locations (available for Android)
About Point Inside, Inc.
Point Inside has transformed the shopping experience by enabling retailers to engage proactively with customers through their smartphones at every point along the purchase path. Mobile apps driven by the Point Inside Interact™ platform increase sales, loyalty and customer satisfaction from initial research and product discovery to the creation of shopping lists and in-store activities. This new level of customer engagement is made possible through Point Inside's patent-pending technologies in indoor mapping, micro-location services and customer engagement.
Point Inside also offers consumers a free mobile application, Point Inside for Shopping and Travel., on iOS and Android devices. Users can quickly find stores, gates, kiosks, restrooms, elevators, escalators, and other guest services in over 1300 malls, airports, theme parks and other venues.
Founded in 2009 and based just outside of Seattle, the company is led by a team of executives with decades of experience developing mobile and location-based services (LBS) applications for companies such as Amazon, AT&T, Boeing, and Qualcomm. Additional details can be found at: http://www.pointinside.com; Facebook: http://www.facebook.com/PointInside; Twitter: http://www.twitter.com/PointInside.
###