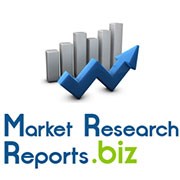 Albany, NY (PRWEB) May 07, 2013
Synopsis
The report provides market analysis, information and insights into mobile point of sale technology (MPOS)
The report provides a global snapshot of MPOS technology and its adoption in various regions across the world
Comprehensive analysis of the technology's market size and future growth prospects
Analysis of various market drivers and key challenges
Detailed analysis of the business strategies adopted by key players in the market to expand their customer base and operations
Comprehensive analysis of best practices for merchants and MPOS solution providers for proper implementation of the technology
Case studies showcasing the impact of MPOS adoption and detailed analysis of competitor landscape along with their business strategies
To Read the Complete Report with TOC Visit: http://www.marketresearchreports.biz/analysis/166779
Summary
Initially mobile point of sale (MPOS) technology was targeted at small enterprises who could not afford a conventional point of sale (POS) solution, either because of financial restrictions or because of the mobile nature of their business operation. However, developments in the retail and service sectors suggest that the technology is not only making inroads into large stores but areas not previously outlined for its use. Demand is being driven by the number of benefits the technology offers, such as improved levels of customer service. MPOS solutions process card payments at anytime and in any location. The global MPOS industry registered significant growth in terms of the volume of terminals in operation during 2011−2012. Competitors such as Square, iZettle, mPowa, SumUp, VeriFone, Intuit and PayPal are aiding the growth of MPOS technology by making it accessible to smaller enterprises. Over the forecast period, the volume of terminals is expected to increase, driven by growth in the retail sector, increased online trade, a rise in smartphone usage and card penetration.
Scope
This report provides a comprehensive analysis of mobile point of sale technology along with key drivers and challenges
It provides current and future market size forecasts for MPOS adoption and its share of total POS systems globally
Highlights regions with relatively high adoption levels and potential hotspots for investment in this technology
Details key business strategies adopted by MPOS solution providers to expand their operations
Illustrates implications of its adoption through the help of detailed case studies
Provides best practices for MPOS solution providers and merchants for smooth adoption of MPOS terminals
Gives insight into key players in the industry and their marketing strategies
To Buy The Copy of This Report Visit: http://www.marketresearchreports.biz/analysis-details/2020-foresight-report-mobile-point-of-sale-technology
Reasons To Buy
Make business decisions using current market size data and forecasts related to MPOS adoption in various industries and different regions around the globe
Understand the key drivers of MPOS technology and the challenges and limitations faced by it
Assessment of the benefits that result from its adoption in various business sectors
Gain insight into key business strategies being adopted by competitors
Key Highlights
Technology has revolutionized the way business is conducted and payment mechanisms have undergone a series of developments. Time is a critical factor for consumers and merchants, it is therefore essential that efficient payment solutions are developed. It is due to this that MPOS devices have been developed.
MPOS solutions have high adoption levels in more developed economies such as the UK, France and Germany with firms such as VeriFone, Square, Intuit, iZettle, PayPal and Motorola leading the charge. Countries in the Asia-Pacific region such as India, China, Malaysia, Singapore, and Hong Kong are now emerging as new destinations for investment in this technology.
Browse All The Report Of This Publisher Visit: http://www.marketresearchreports.biz/publisher/61
Technological innovations have allowed turning smartphones and tablets, running on platforms such as Apples iOS, Blackberry and Android to be used as MPOS systems. Many MPOS solution providers provide dongles capable of reading card information which can be attached to a smartphone through the headphone jack, a USB port or a proprietary connector.
The market size of MPOS technology is growing at a fast pace. The key growth drivers are expected to comprise MPOS-enabled smartphones, investment in MPOS technology in the emerging economies of Asian and Africa, the large-scale adoption of MPOS technology by small enterprises and the clearance of regulatory hurdles.
The retail sector is considered the main area of adoption for MPOS services due to the volume of transactions. Even though the sectors growth rate has been volatile due to the economic crises, the size of the sector has continued to expand.
Competitor Analysis: Therapeutic Proteins – Biosimilars, Biobetters & Biosuperiors
The new Competitive Intelligence Report Therapeutic Proteins – Biosimilars, Biobetters & Biosuperiors of May 2013 provides a competitor analysis in the product portfolios and development pipelines of ten major classes of therapeutic proteins and their biosimilar and biobetter/biosuperior versions in regulated and less regulated markets:

Erythropoietin (EPO) & Erythropoiesis Stimulating Agents (ESA)
G-CSF & GM-CSF
Thrombopoietin & Thrombopoiesis Stimulating Agents
Interferon
Insulin
Coagulation Factors
Human Growth Hormone (hGH)
FSH, hCG and LH: Therapeutic Proteins for Assisted Reproductive Technology (ART)
Thrombolytics & Fibrinolytics
Enzyme Replacement Therapies
Territories covered are the major pharmaceutical markets North America, Europe and Japan, as well as South Korea, India, China and other countries in Latin America, Africa and Australasia.
To Read the Complete Report with TOC Visit: http://www.marketresearchreports.biz/analysis/167445
With more than US$ 50 bln in sales, therapeutic proteins represent a major category of pharmaceutical products with established therapeutic value and high economic attractiveness. As more and more of the branded products are running out of patent protection and regulatory agencies are providing better guidance, development of biosimilar versions as well as of improved next generation versions are a highly attractive goal for pharmaceutical and biotechnology as well as technology focused companies.
This report includes a compilation of current active projects in research and development of biosimilar and novel biobetter/biosuperior therapeutic proteins as well as non-protein based competitor products and an overview of approved products in regulated and less regulated markets. Competitor projects are listed in a tabular format providing Information on:
To Buy The Copy of This Report Visit: http://www.marketresearchreports.biz/analysis-details/competitor-analysis-therapeutic-proteins-biosimilars-biobetters-and-biosuperiors
Drug Codes,
Target / Mechanism of Action,
Class of Compound,
Company,
Product Category,
Indication,
R&D Stage and
additional comments with a hyperlink leading to the source of information.
Latest Report:
Competitor Analysis: Coagulation Factors: http://www.marketresearchreports.biz/analysis/167446
The Competitive Intelligence Report Coagulation Factors provides a competitor analysis of plasma-derived and recombinant coagulation factors for topical or systemic administration to treat hereditary or acquired coagulation disorders as of May 2013. Purchase of the pdf report includes a 6-month online access to the data of the report and any updates since the publication date. Credentials to access the database will be sent by e-mail and allow online work with the project data to print or export an individual report.
Global sales of the six major recombinant branded products of coagulation factors VIII, IX and VIIa in 20012 were US$ 7.2 bln. This attractive market size and the soon beginning expiration of basic patents stimulated established hemophilia product companies as well as companies with new technologies to enter the race for next generation systemic coagulation factor products. Projects hvae rapidly progressed in clinical trials and several of them are already under regulatory review.
About Us
MarketResearchReports.Biz is the most comprehensive collection of market research reports. MarketResearchReports.Biz services are especially designed to save time and money of our clients. We are a one stop solution for all your research needs, our main offerings are syndicated research reports, custom research, subscription access and consulting services. We serve all sizes and types of companies spanning across various industries.
Contact
M/s Sheela
90 Sate Street, Suite 700
Albany, NY 12207
Tel: +1-518-618-1030
USA – Canada Toll Free: 866-997-4948
Email: sales(at)marketresearchreports(dot)biz
Website: http://www.marketresearchreports.biz/
Blog: http://mrrfocuseconomics.blogspot.com/