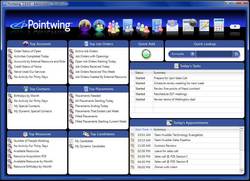 Atlanta, GA (PRWEB) June 8, 2010
Social networking technology is fast becoming an important tool in the recruiter's arsenal to source online candidates. VCG's latest enhancement to their Pointwing® recruiting software is designed to help busy recruiting firms enhance their Internet recruiting and sourcing efforts by linking Pointwing to any online social network through RSS (Real Simple Syndication) feeds. Additionally, candidates and job applicants can subscribe to RSS feeds directly from the recruiting firms' Web site for job postings made through Pointwing and the Pointwing Self Service Web portal module.
Candidate sourcing is a time-consuming process for recruiters. With the extraordinary growth of social networks such as Twitter®, Facebook® and LinkedIn®, recruiting firms are leveraging these technologies to build connections with both active and passive job seekers. The challenge however, is maintaining those communications and keeping them fresh. Now, VCG's Pointwing recruiting software, integrated with the Pointwing Self Service Web portal module, can create RSS feeds to the recruiting firms' social network sites or to subscribing applicants that include the recruiting firms' latest job postings.
The RSS feed is easy to set up in Pointwing and fully customizable so that various feeds can be created based on different factors. A subscriber can then subscribe to one or more feeds at once. Equally important, the RSS feeds greatly reduce the time, effort and cost of maintaining and updating the recruiting firms' social networks.
Steve Taylor, President and CEO of VCG, said "Online social networks are proving to be a useful recruiting source, but they also require time and effort to maintain. Pointwing makes it easy by giving recruiting professionals a streamlined way to update all of their social networks and their own Web site so that active and passive candidates can be alerted to fresh job postings."
About Pointwing
Pointwing® is a modular recruiting software suite that accelerates the process of finding and placing the people most likely to thrive and streamlines unique business processes to improve productivity, control costs and manage margins. Modules available include:

Pointwing Front Office – the core recruiting software module that accelerates recruiting and sales by integrating account and candidate/employee management, Smart Match semantic resume search engine, Job Publisher job board posting, Resume Sourcer search spider, job placement, two-way Microsoft Outlook integration and more.
Pointwing Self Service – a Web portal module that connects the Pointwing Front Office module to your Web site in real-time, enabling you to post jobs and resources/candidates to search for jobs, register and/or update their profile, upload their resume and apply for jobs.
Pointwing Software Kit – a module which gives you access to Pointwing's open API to create custom applications that integrate with Pointwing or integrate Pointwing with virtually any third-party application.
Pointwing is easily deployed in the manner best suited to your firms' recruiting business operational needs: On-demand software as a service (SaaS) subscription; managed services (licensed software with VCG-hosting); or enterprise (licensed software with self-hosting).
Click for Pointwing Online Demos, or for more information about Pointwing or to register for a live online Webinar demonstration, visit http://www.pointwing.com or call 800-318-4983.
About VCG
VCG provides comprehensive staffing and recruiting solutions that power success. Since 1976, VCG has helped hundreds of companies worldwide achieve operational excellence by streamlining their unique business processes and accelerating finding and placing the people most likely to thrive. VCG and Pointwing are registered trademarks of VCG, LLC. For more information visit: http://www.vcgsoftware.com or call 1.800.318.4983.
# # #