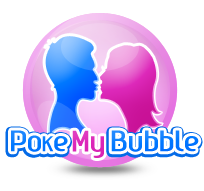 Join the website free, add some photos, and you're in with a chance of winning the £1000 cash prize.
(PRWEB UK) 15 August 2012
Participants on PokeMyBubble.com can enter the contest by joining the free website and adding photos. The competition will be judged by the contestants and the owners by adding hot votes and completing the beauty competition. Sharing the Hot Votes on Facebook is compulsory for the winner to qualify.
Dating in general is a socially interactive fun experience, whether that be on a date, or just being in an environment where potential lovers start flirtatious behaviour and get to know each other. Some of the fun is lost when dating online, due to the obvious limitations of not being face to face. That all changes with pokemybubble.com. So to add to the flirty activity, the new Internet dating site is adding a "Hot Vote" where members vote the photos hot and the amount of "hot votes" is totted up and displayed. And remember that beauty is in the eye if the beholder, and there will be lots of people voting. A survey carried out in 2009 suggests that 30% of couples meet online and a further survey in 2010 shows that 1 in 6 marriages are the result of online dating.
There is also an individual beauty competition where every week, each user is presented with 30 contestants to which they must select 3 winners. This is also added to the overall scores of the contest. Both of these systems along with Judges inputs will be used to select the overall winner.
Pokemybubble is the only website that offers a free competition, where an actual prize can be won. Designer Steve Power says "we will be looking for lots of ways to make the site more interactive in a way the users enjoy, and we are happy to reward its users where possible, and are also willing to consider sponsorships from companies who wish to get involved. The entire site is designed to be interactive."
It's so easy, and fun. Join the website free, add some photos, and you're in with a chance of winning the £1000 cash prize. Contestants are required to share Hot Votes and Beauty Competition wins to activate their entry into the £1000 contest. The winner will also be crowned and promoted on the dating site in 2013.
The website where the users poke another users bubble to show their interest, believe that involving people more in interactive ways, will add to the experience. Currently, there is Poking Bubbles, Chat, MatchMe, BigChat, Hot Vote, and now a chance for one winner to collect £1000 cash.
Pokemybubble offers the complete online dating service for free, including registration, chatting and exchanging details. The MatchMe service is also free and can match users up based on what they really like. This is completed by using an easy slider system to indicate preferences. There are some profile enhancers that cost including triple photo and enlarged photo. However, the free website primarily makes its profit from advertising.
The website which is designed and hosted from Dartford, UK, is completely free to join. All competitions are also free to join and can be entered at PokeMyBubble.com.