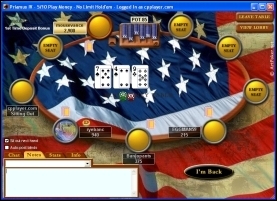 Miami, FL (PRWEB) March 7, 2007
Poker sites have bounced back according to the latest blog post at the US poker updates page at http://www.compatiblepoker.com/usa.php. The stats show what average player volumes are doing this month compared to the signing of the legislation, the closing of Neteller to US players and other major events.
The statistics are showing that many players have gained confidence in playing online poker once again. The numbers show that there are still record numbers at US accepted sites like Poker Stars com.
Poker players also got some positive news according to earlier blog posts. D'Amato, an ex-Senator along with the Poker Players alliance will continue fighting to secure online poker as a permanent place in the United States. Many poker sites have begun pushing the support of the Poker Players Alliance by offering bonuses to players who sign up.
The closing of Neteller to the US customers forced many online poker providers to re-arrange their business plan. Many sites began offering new deposit providers in order to satisfy the large supply of customers.
Non-US customers were also affected by the Neteller closing and many have since lost faith in the company. Players from the US are still seeking payout of funds. Many believe it won't be until March 16th, that a possible solution comes about.
All of the information regarding the US poker scene has been tracked and recorded at http://www.compatiblepoker.com/usa.php since the beginning of October, almost 5 months ago. The brands and companies stance on the US market is highly accurate and up to date.
Media Source:
US Poker Updates
###