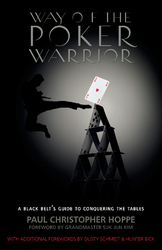 I think this represents an incredible value
Las Vegas, NV (Vocus) September 8, 2010
Up-and-coming poker training site DragTheBar.com announced a promotion today that will enable new members to get a free copy of Paul "GiantBuddha" Hoppe's Way of the Poker Warrior when they sign up for three months of coaching.
To receive the book, prospective members must go through Hoppe's website, http://www.giantbuddhapoker.com, or through the website of fellow DragTheBar insructor Dusty "Leatherass" Schmidt, http://www.dustyschmidt.net. Schmidt's media company, Imagine Media, published Way of the Poker Warrior, which combines Hoppe's two passions — martial arts and poker — with the result being original instruction delivered in a very unconventional way.
A three-month subscription at DragTheBar costs $90, with the new member getting a fourth month free when they sign-up.
"I think this represents an incredible value," Schmidt said. "Once they sign up, a person walks away with a book and a coaching site that will quickly make them more profitable. They can monetize the investment in hours.
"Even better, I feel that making a player more profitable is the least important take-away from Paul's book. Way of the Poker Warrior is about poker and life seen through the prism of martial arts, and I think the reader walks away a better person for having read it.
Hoppe is both a Manhattan-based martial arts instructor and a highly successful mid-stakes Limit Holdem pro known for his work ethic, attention to detail and complete devotion to his two passions. In Way of the Poker Warrior, Hoppe applies one discipline to the other, detailing a remarkably clear-eyed approach to winning poker that he says he's used to achieve acclaim and a six-figure income as a player and coach.
"Way of the Poker Warrior is about learning how to learn and learning how to compete," Hoppe said. "DragTheBar will show you what to learn, and Warrior will show you how to assimilate and apply that knowledge efficiently and effectively.
"In the martial arts business, we require student to commit to at least three months of training. By committing to three months of poker education, you have a better chance to push through the challenges ahead."
Emphasizing discipline in preparation, play and conduct, Hoppe grounds his theories in hard-and-fast applications to the game, including 29 hand samples taken from Limit and No Limit Holdem, Pot Limit Omaha and multi-table tournaments.
Jared Tendler, a celebrated mental coach and DragTheBar instructor, says Hoppe's book is useful to amateurs and pros alike.
"Paul is a consummate professional, masterfully integrating all aspects of the game," Tendler said. "His dedication, discipline and poise are a model for any aspiring player, as well as established players looking to shore up bad habits."
Though it contains allusions to the intangible rewards one seeks in martial arts, the Hoppe's poker instruction ultimately remains practical, with the goal of making readers more profitable tomorrow.
"The coolest thing about Paul's book is that he manages to turn his theories into advice a poker player can use immediately," Schmidt said. "This is not a book full of analogies and metaphors; it's not vague kung-fu-speak. His advice is useful and real, and it's written in a way that makes it incredibly practical and fun to read."
Schmidt and DragTheBar CEO Hunter "Beachjustice" Bick wrote forewords to Way of the Poker Warrior.
"We're very excited to be working closely with Imagine Media," Bick said. "Both of our companies are on the forefront of poker training and it's a natural fit. The list of DTB coaches that have published books with Imagine is growing, and this is a good way to offer extra value to those looking to take their poker game to the next level."
As a poker professional, Hoppe is known for his detailed and efficient combo analysis. He first played live poker professionally from 1999-2000. This included $20/$40 Limit Holdem and Seven Card Stud, some Omaha 8 and Stud 8, and $5/$10 No Limit. After several years away from the game, he returned to poker in February 2006 with a $100 deposit bonus. He built his bankroll from that free $100 into a six-figure income, going from $.50/$1 to $10/$20, $15/$30, and $30/$60, which he plays today.
Hoppe has maintained a very solid 1.5BB/100 win rate over the last 30 months. His Heads Up win rate is 5BB/100. In 2007, 2008 and 2009, he was able to double his poker income from the previous year. He's known as a versatile player, mixing Limit, No Limit, Omaha, Stud, and Triple Draw.
He has coached poker for more than two years, including about 50 private students, and is an instructor at DragTheBar.com, for which he has made more than 50 videos.
DragTheBar.com boasts affordable memberships and rakeback options at a variety of poker rooms. The site's poker-training videos and poker software are not digital-rights managed (no DRM) and are compatible with iPods and other MP3 players. Alongside poker, the site also offers backgammon, coached by world champion Bill Robertie.
There is no sign-up fee for joining DragTheBar.com, which has one membership level for all stakes and multiple payment options. The site is presently offering a 7-day free trial to all prospective members.
###