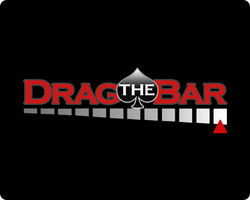 We definitely have some terrific momentum
Charlotte, NC (Vocus) February 23, 2010
Emerging poker training site DragTheBar.com (http://www.dragthebar.com) announced today it has added renowned performance coach Jared Tendler to its roster of instructors. Tendler, who previously taught at Stoxpoker.com before resigning last month, will focus on launching a program designed to propel DragTheBar.com members to Poker Stars' Supernova and SuperNova Elite status.
This makes four major announcements by DragTheBar.com since the start of the New Year. First, legendary player-coach Dusty "Leatherass9" Schmidt signed on with the poker instruction site. He was soon joined by fellow coaches Matt "mbolt1" Bolt, Jake "7delux7" Wilkins, Greg "zerosum79" Jones, Stosh "hatebicycles" McConnell, Matt "forcewithme9" Amen, and Paul "Giantbuddha" Hoppe. DragTheBar.com also announced the acquisition of PokerSwat.com, including the site's 200-plus poker instruction videos.
"We definitely have some terrific momentum," said DragTheBar.com CEO Hunter Bick, who started the poker instruction site in May with partners Phil Nagy and Korey Gillis. "Adding Jared is very exciting, because he's respected so far and wide. He virtually invented the field of performance coaching for poker players, and our members will have front-row access to his unique approach and extensive knowledge."
Tendler has worked with over 115 poker players from 17 countries, along with thousands of others through his videos and forums. He had a popular thread on TwoPlusTwo.com called "Ask Jared," which will be re-created at DragTheBar.com. Tendler, who also coaches golfers, is a former three-time Div. III collegiate All-American.
He holds a Master's degree in psychology and is a licensed counselor. He is due to publish his first book on poker psychology later this year. For more information on the book and his coaching program visit http://jaredtendlerpoker.com.
"As a relatively new site, DragTheBar.com has a ton of potential, and I want to be a part of what makes the site successful," Tendler said. "Being innovative is something that's always been very important to me, and the guys running the show there proved they feel the same way by coming up with the idea for this SuperNova Elite program."
SuperNova Elite is the highest level of the PokerStars VIP club and is worth over $114,000 in cash bonuses and other promotions to the individuals who achieve this milestone.
There are several notable perks for becoming a SuperNova Elite member. They include:

A 400% FPP multiplier bonus
Milestone Cash Credits
SuperNova Elite VIP store access
Entrance into weekly and monthly VIP tournaments
Free entry to selected major tournaments, including the World Series of Poker
To earn the rank of SuperNova Elite, a player must accumulate 1 million VIP Player Points during the calendar year. This requires a player to get 2,740 points every day of the year, and play an average of nearly 250,000 hands per month.
Tendler will create a community within DragTheBar.com that helps players achieve SuperNova Elite status. There will be four components to the program
A "SuperNova Elite Project," where players can submit an application to work directly with Tendler for free.
High-level videos by Tendler outlining the major areas of emphasis for players striving for SuperNova Elite status.
A dedicated forum where players can get direct feedback from Tendler and other DragTheBar coaches.
A webinar that is free to any dragthebar.com member to kick off the program.
"It will be a bit like a running club for people training for a marathon," Tendler said. "Having coached three players — including Dusty — to SuperNova Elite status already, I'm excited to show others how the mental game can have real value for them."
Schmidt says he is proof positive of the effectiveness of Tendler's coaching.
"When I was going for SuperNova Elite status (in 2007), I was in danger of becoming totally derailed in October by the first losing month of my career," Schmidt said. "Then I started working with Jared, who I'd met on a golf trip. Not only did I achieve the status, but I also made $600,000 in the four months after we started."
Outside of the SuperNova Elite program, Tendler will work with DragTheBar.com members via videos, blogs and forum posts that focus on issues like adding tables, rationalizing variance, dealing with tilt and eliminating inhibitors that keep players from getting into "the zone."
"Jared is hands-down the best guy to help our members achieve SuperNova Elite status," Bick said. "Just as importantly, anyone looking to substantially increase his or her results at the tables will really benefit from his poker instruction."
DragTheBar.com boasts affordable memberships and rakeback options at a variety of poker rooms. The site's poker training videos and poker software are not digital-rights managed (no DRM) and are compatible with iPods and other MP3 players. Alongside poker, the site also offers backgammon, coached by world champion Bill Robertie.
There is no sign-up fee for joining DragTheBar.com, which has one membership level for all stakes and multiple payment options. The site is presently offering a 7-day free trial to all prospective members.
Press contact:
Phil Nagy
877-494-8331
phil(at)dragthebar(dot)com
###