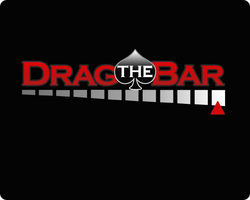 We have no other way of reaching Isildur1 other than making a public offer
Charlotte, NC (Vocus) May 25, 2010
Poker training site DragTheBar publicly announced today it is offering elusive online poker star Isildur1 a $250,000 contract to join its roster of coaches.
According to DragTheBar CEO Hunter Bick, included in press-shy Isildur1's contract is an option to keep his identity a secret. In April, Isildur1 — who has never made a public appearance — supposedly said he would participate in a London-based, made-for-television event called PartyPoker's Big Game IV, but he failed to show.
Bick said attempts to reach Isildur1 through conventional channels have been unsuccessful.
"We have no other way of reaching Isildur1 other than making a public offer," Bick said. "He is a one of a kind player, and I think his unique thought process would be a huge addition to our site and add tremendous value for our members. He should know that we'll keep his identity anonymous if he wants us to."
Bick said that if he is interested, Isildur1 should transfer $5 to BeachJustice on Full Tilt and forward the transfer-receipt email with a message to coaching(at)dragthebar(dot)com. After contact is made, each party will sign a non-disclosure agreement.
The mysterious Isildur1 adrenalized the online poker world when he showed up on Full Tilt Poker in November 2009. Within weeks he was sitting with $1 million-plus across 6-8 tables, while playing the likes of Tom "Durrrr" Dwan, Phil Ivey, Patrik Antonius and Phil Galfond. Isildur1 took home $5.5 million in two weeks, a streak widely believed to be the most lucrative in the history of online poker.
In mid-December, Brian Hastings won $4 million from Isildur1 in five hours, though soon afterward Hastings admitted he'd been helped in his victory by sharing hand histories with Brian Townsend, a violation of Full Tilt's terms and conditions.
By the end of the year, Isildur1 had been involved in all 10 of the biggest hands in the history of online poker. By December, he'd lost a nearly $1.4 million pot to Antonius and won a $1.1 million pot from Ivey, making him the only player to have both won and lost a million-dollar pot online.
Isildur1 has since returned to Full Tilt, experiencing seven-figure swings on multiple occasions.
Isildur1 is widely believed to be Swedish phenom Viktor Blom, though Blom has fiercely denied the association.
DragTheBar.com boasts free membership and rakeback options at a variety of poker rooms. It also offers steep discounts for long-term membership purchases. The site's poker training videos are not digital-rights managed (no DRM) and are compatible with Apple products. Alongside poker, the site also offers backgammon, coached by world champion Bill Robertie.
There is no activation fee for joining DragTheBar.com, which has one membership level for all stakes and multiple payment options. The site is presently offering a 7-day free trial to all prospective members.
Press contact:
Phil Nagy
888-398-0270
phil(at)dragthebar(dot)com
###