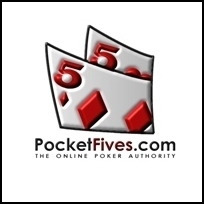 The amount of information on PocketFivesLive.com will allow anyone to follow the tournament from the comfort of their home
Las Vegas, NV (PRWEB) July 26, 2006
The boom in online poker has spurred phenomenal growth in poker rooms across the nation. From the Gold Strike Casino in Tunica, Mississippi to the Commerce Casino in the hills of Los Angeles, players are honing their skills online and putting them to the test in a casino. This year's World Series of Poker Main Event will draw about 8,000 poker players from around the world. They will vie for an estimated $10,000,000 first prize, life changing money for anyone in attendance. PocketFives.com, dedicated to online poker, recently launched PocketFivesLive.com, featuring coverage of online poker players from PocketFives.com, both professional and amateur, playing in the biggest live tournaments. PocketFivesLive.com will make its debut just in time for this epic event.
"PocketFives.com has many skilled online poker players that are performing well both live and online," says PocketFives President Cal Spears. "Every time they'd go far in a live tournament, the entire community would rally behind them and show support. It seemed obvious that the demand was there, so we decided to launch PocketFivesLive. We've always strived to recognize online poker players' accomplishments and this was simply the next step in our evolution."
PocketFivesLive.com will provide updated, in-depth coverage of the largest prize pool tournaments in the world. After the World Series of Poker in Las Vegas, the PocketFivesLive staff will move to the Bicycle Casino in Los Angeles for the World Poker Tour's Legends of Poker. Other tournaments covered will include the Bellagio Five Diamond World Poker Classic in Las Vegas, the World Poker Challenge in Reno, and the World Poker Tour Championship in April, 2007 in Las Vegas. "The quality of poker tournaments we will be able to cover is amazing," says Spears. "Our live coverage of online poker players makes an exciting addition to our ever-growing site. Online poker players face many challenges when playing in a live setting and we want to showcase their successes."
Players participating in any of a dozen poker tournaments over the next year can sign up at PocketFivesLive.com. Players will be covered completely free of charge. "Anyone who wants their family, friends, and fellow online poker players back home to track their action online, should come to PocketFivesLive.com and tell us you're playing. It is celebrity status for anyone, amateur or professional" says Spears. "Just sign up an account on PocketFives.com and we will do our best to ensure your progress will be followed."
The site will offer comprehensive analysis of the poker tournament at hand, along with a complete image gallery, and a featured blog compiled by the PocketFivesLive.com staff. Updates will be posted as often as possible throughout the tournament and will include a feature that allows for news to be sorted by player. An image archive capturing memories from all tournaments will also be available. "The amount of information on PocketFivesLive.com will allow anyone to follow the tournament from the comfort of their home," claims Spears. "As you can tell from this years' World Series of Poker, internet poker players are the real deal. As they win more and more, the general public will become more exposed to the skill of online poker players."
# # #