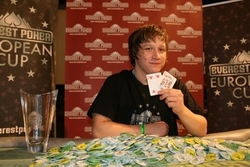 If he's got this much skill at 19, he's going to be well worth watching for in the future!
Montreal, QC (PRWEB) October 26, 2007
Everest Poker http://www.everestpoker.com today announced the winners of the online poker room's second Everest Poker European Cup, held in Vilamoura, Portugal on 20-21 October. The first place finisher of the event was 19-year-old Swedish player Per Vennstrom, who walked away from the final table with €21,000. 174 players from all over Europe participated in the live final event, which was run in parallel with a special poker tournament for the media. 50 journalists from titles including Gazzetta dello Sport, Live Poker, First Poker, Poker Pro, Inside Poker, and Ace Magazine.
"Per Vennstrom surprised all of us," said Jonathan May, Everest Poker property manager. "If he's got this much skill at 19, he's going to be well worth watching for in the future!"
Second place and €16,000 went to France's Richard Dutour, who lost to the 19-year-old Vennstrom after having 1,075,000 chips to Vennstrom's 320,000 at the beginning of the heads-up portion of the event. Portugal's own Roberto Machado took third place and €12,000. Other finalists included Spain's Oscar Reyes, Thomas Pauchard from Switzerland, Eric Lespinasse and Jerome Cappelier from France, and Holland's Diede Pennin, Bert Besselink, and Morloes Willems.
"Thomas Kremser did a fantastic job directing the main event," added May.
More information and live coverage (including videos) from the Everest Poker European Cup can be found at http://www.everestpokerblog.com/epec. To join in the action and play poker free online, download the free Everest Poker software from http://www.everestpoker.com/dload . Tournament schedules are available through RSS and XML feeds at http://www.everestpoker.com/tournament/current-schedule.html .
About Everest Poker
Everestpoker.com is the first site dedicated to the international poker playing community. Recognizing the many non-English speaking poker enthusiasts around the world, Everest Poker has built the only poker software fully localized in 11 different languages. In addition, Everestpoker.com offers poker players customer support in 15 languages, and is involved with local poker initiatives through partnerships and participation in national, European and worldwide tournaments. Everest Poker is owned by Ultra Internet Media. For more information, please visit: http://www.everestpoker.com
To subscribe to Everest Poker's press releases, add http://www.rsspad.com/EverestPokerRSS.xml to your RSS reader.
###