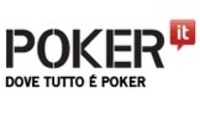 Blogs, forums, user ratings & a poker club index are slated for completion in early 2009
ROME (PRWEB) December 17, 2008
Poker.it, whose slogan translates to "where everything is poker", has been online since 1996 but only recently established operations as Italy's #1 legal poker portal and a leading information resource. The site's increased popularity is partially due to changes in Italy's online poker industry.
Presently, Italy's Autonomous Monopolies State Administration, the AAMS, deems fewer than 30 online poker rooms legal, leaving many players confused as to which are and are not. http://www.Poker.it eliminates this confusion by featuring only legal poker rooms.
The site boasts exceptional content. Several professional Italian poker players, seizing the rare opportunity for association with a successful and legal online poker brand, collaborated with Poker.it developers before the site's launch. The collaboration produced some of the most authoritative poker content available online—the professional players wrote many of the sites articles, including those on topics like Texas Holdem strategy and rules. Polls, newsletters, and in-depth reviews written by objective editors are additional unique elements.
First-time visitors to http://www.Poker.it will appreciate its clean, user-friendly layout. Players frequently comment on the site's design, noting that they can find what they need with ease.
Poker.it's Chief Editor, Marcello Giacopuzzi, added that Poker.it will soon implement social networking tools to link members of the online poker community: "Blogs, forums, user ratings & a poker club index are slated for completion in early 2009".
Brandi explains, "Italians want to play legally but don't want to forfeit quality features to do it. Poker.it combines both. We're a legal poker portal and the best source for poker room reviews of leading legal poker rooms".
About http://www.poker.it
Poker.it is the first and biggest legal Poker Portal in Italy. Visitors to Poker.it enjoy the best Poker Room Reviews, Poker Games and Unique Features available online with the added benefit of knowing their participation is 100% legal.