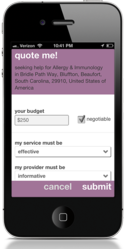 Menlo Park, CA (PRWEB) January 10, 2013
In addition to being able to search the over 1 million practitioners in the provider database and give physicians a "quality of care" score using the PokitDok rating system, the centerpiece of PokitDok's new mobile app is the "Request for Quote" (RFQ) process. Building on their commitment to finding the best treatment options at a fair price, the PokitDok RFQ process gives users the ability assign a price they are willing or able to spend on a particular service and have providers bid for their business. Consumers initiate the process by searching on a medical condition or healthcare provider specialty and identifying the services that may be appropriate treatment options.
"The PokitDok Request For Quote mobile experience places the power to set personalized health treatment and service pricing squarely in the hands of consumers and providers." – Ted Tanner, CTO PokitDok
Once an individual has found the treatment option best suited for them there is a simple three-step process PokitDok facilitates:
1. An RFQ is sent to providers, which includes the consumer designated budget, service and provider requirements, the timeframe for the request, and whether the requestor's medical need is chronic, emergent, or preventative in nature. Consumers may also choose to supply a brief message giving any additional details on their medical situation or treatment needs.
2. Providers receive an email with the RFQ information and evaluate whether they are a match as a care provider. They in turn submit a price quote or follow up question back to the consumer.
3. Consumers receive quotes via email, text, or in app. After reviewing the responses and comparing their options consumers can accept a quote and lock in the price from a provider.
This new process not only helps consumers find the services they need at a price they can afford; it also functions as a source of qualified patients for providers. Based upon consumer submitted preferences (service, budget, and provider) practitioners are able to connect with potential new patients that have similar priorities and service expectations, resulting in a mutually beneficial and satisfactory experience.
For more information on PokitDok please visit pokitdok.com or download the PokitDok mobile app at iTunes.
ABOUT POKITDOK
With a goal of empowering consumers to take control of their health, PokitDok consumers are able to research symptoms and diagnoses, share health and wellness-related content, and connect with a health conscious community.
Focused on providing credible information and access to all available treatment options, PokitDok boasts a practitioner network comprised of both traditional and alternative care providers. These providers offer exclusive, discounted pricing on services and treatments on everything -- from mammograms to yoga classes -- all of which can be purchased for cash through the PokitDok marketplace.