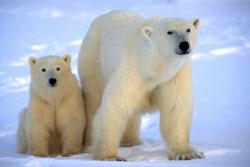 There are literally polar bears everywhere you look.
Missoula, MT (PRWEB) February 21, 2012
Adventure Life's fly-in polar bear tours were featured on the ABC adventure show "Born to Explore" hosted by Richard Wiese on February 18, 2012. In the exciting piece, Wiese flies to Arctic Kingdom's remote polar bear cabin camp in Arviat, Canada for a one-of-a-kind wildlife viewing experience. For several days the global explorer mingles with the Inuit people and observes dozens of polar bears as they await the winter freeze. For more information on this five-day polar bear tour, Arctic safaris or polar cruises, call Adventure Life at 800-344-6118 or visit http://www.adventure-life.com .
"Through nature treks with native guides, travelers are able to get amazingly close to the polar bears," said Adventure Life Operations Director Jonathan Brunger. "There is no other polar bear tour like this in the world."
This is not just a polar bear trip; it's a life-altering experience. The camp is set in an area known as "Polar Bear Alley," a name given by the locals. Situated halfway between Churchill and Arviat on the Hudson Bay, the cabin placement is very strategic. For 5-days guests observe and photograph the bears as they anxiously wait for the river and bay to freeze.
"There are literally polar bears everywhere you look," said Brunger. "In fact, the Inuit guides witnessed more than 300 bears around the cabins last season."
The cabins are polar bear proofed, and the Inuit guides have an intimate knowledge of the bears and their personalities. All of this translates into amazing polar bear photographic opportunities from the time travelers arrive on the private aircraft. This five day tour departs Oct 31, 2012 and Nov 4, 2012. Additional land based tours and Arctic safaris are available throughout the summer season. For more information on polar bear tours, arctic safaris, or polar cruises, call Adventure Life at 800-344-6118 .
About Adventure Life:
Adventure Life was founded in 1999 with a commitment to providing quality small group tours that have a positive impact on the local culture and environment. With more than 100 adventures in South and Central America, Adventure Life's trips explore local culture, ecology and life from remote villages, to bustling city markets, to the wildest jungles and mountains. The company's grassroots approach to travel utilizes local guides, family run hotels and the local transportation infrastructure. Adventure Life is headquartered in Missoula, Montana, U.S.A, with partners throughout South and Central America. Adventure Life also offers the broadest selection of specialized expedition cruise services to the world's most remote destinations. For more information or Adventure Life reviews visit them on Facebook.
###