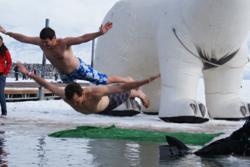 Your hot tub pretty much saved my life.
Saratoga Springs, Utah (PRWEB) February 15, 2013
Bullfrog Spas was proud to sponsor the 2013 Polar Plunge on Saturday February 9, a benefit for the Special Olympics.
This is Bullfrog's fourth year sponsoring the event, which is held in Utah Lake near Saratoga Springs, Utah and is hosted by the Saratoga Springs Police Department. This one of several Polar Plunges held around the country to benefit Special Olympics.
The premise of the event is a dare for people to jump into water that is just above freezing temperatures. Consequently, the Polar Plunge has adopted the catch phrase "We're Freezin' for a Reason" as participants leap into icy waters. The ice is thick enough that chain saws are necessary to cut out the opening.
Bullfrog Spas is happy to be able to provide a large hot tub for swimmers to enjoy after completing their super cold swim. The hot tub is heated to around 100 degrees Fahrenheit, quite a change from the temperature of the frozen lake, which was estimated to be around 35 degrees.
One "Plunger" commented with a smile, "Your hot tub pretty much saved my life."
The atmosphere was fun as usual with some outrageous costumes, impressive diving technique, and food and beverages donated by local businesses. Both individual participants and corporate teams raise money through pledged donations.
There are still several more Polar Plunge events coming in the next few weeks and it's not too late to participate. For more information on becoming involved in Polar Plunge events and the Utah Special Olympics visit http://www.sout.org.
About Bullfrog Spas
Founded in 1996, Bullfrog International, burst onto the pool and hot tub scene by creating quality portable hot tubs with patented JetPak Technology. JetPaks are modular jetted spa seats that can be interchanged at any time and JetPak Technology eliminates hundreds of feet of pipes and hundreds of pipe fittings, creating a more reliable and efficient plumbing system. JetPaks make Bullfrog Spas completely customizable by allowing the owner to choose their jetted massages and allowing these massages to be interchanged or upgraded at any time. Today, Bullfrog's new JetPak Therapy System is a completely re-engineered, self-contained, hi-tech version of their original. Bullfrog International is headquartered in the Salt Lake City, Utah metro area and currently distributes, licenses, and retails its products in the United States, Canada, Australia, New Zealand, Asia, and Europe.