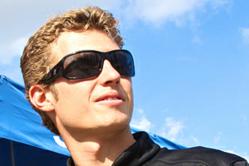 We're excited that so many prominent professional drivers have chosen Petrol Eyewear for their personal use.
Huntington Beach, CA (PRWEB) August 30, 2012
With a passion for motor sports and a fashion-conscious pursuit of the ultimate in performance sunglasses, including aviator sunglasses, Petrol Eyewear has introduced three new models. The new polarized sunglasses draw inspiration from their Italian-made roots and take the names Florence, Turin and Rome.
All three models come from Petrol's line featuring sports-rugged TR-90 Grilamid "synthetic titanium" polymer frames, paired with injected polarized polycarbonate lenses. TR-90 Grilamid frames, with sturdy 6mm stainless steel hinges, are virtually indestructible—and are highly attractive, as well. Grilamid is an exceptionally lightweight—20% lighter than resin—super-durable polymer that excels at maintaining its shape, resisting fatigue and overcoming everyday wear and tear. When compromise is out of the question and comfort a requirement, TR-90 Grilamid is the frame material of choice.
Compelled to deliver the absolute best polarized sunglasses, Petrol Eyewear has specified the "ne plus ultra" optically correct, distortion-free lenses cast and vacuum-coated in France. These distortion free lenses reject 100% of harmful UV rays, and suppress blue-light refraction while cutting light transmission by 88%—eliminating distracting glare on the racetrack, at sea or on the ski slopes—or anywhere optimized visual acuity is a plus. The lenses feature a unique coating, Repellium®, which provides the lenses with superior scratch resistance while also repelling smudges, oils, water, fogging and fingerprints on the outside of the lens while reducing bounce-back glare on the inside.
"We're excited that so many prominent professional drivers have chosen Petrol Eyewear for their personal use," commented Petrol President Terence Scheckter. "Professional drivers know the importance of great vision, without glare or distortion. So it's no surprise top drivers make Petrol their driving sunglasses of choice," Scheckter added. The full stable of Petrol-sponsored drivers, and their favorite models, can be seen on the Petrol Eyewear website.
The Florence polarized sunglasses are available in sizes for both men and women and are introduced in black frames with polarized grey lenses and tortoise shell frames with polarized bronze lenses. The lenses are offset by a smart dual stripe motif on the temple piece, the Petrol Eyewear logo.
The Rome polarized sunglasses model is a more traditional type of driving sunglasses, an update on the classic wayfarer. It is available in stylish matte black frames with grey polarized lenses, gloss black frames with grey polarized lenses and the always-popular tortoise shell frames with bronze polarized lenses. The Rome is also available in models for both men and women and features the dual stripe motif.
That motif is repeated on the temple piece of the Turin wrap-around polarized driving sunglasses, which are suitable for everyday use as well as beachwear and sports pursuits.
All three new models carry the standard Petrol one-year warranty and come in the company's signature hard-shell case with micro fiber polishing bag. Petrol Eyewear is an independent designer and manufacturer of high-quality eyewear inspired by the world of motor racing. Motor sports drivers are attracted to polarized eyewear for its superior vision. The Petrol collection brings the same superior vision to eyewear suitable for most any pursuit where high-quality polarized sunglasses are essential. Headquartered in Huntington Beach, Calif., Petrol is a subsidiary of TSW, a leading producer of alloy wheels with a 40-year history of incorporating race-inspired technology into everyday driving. Founded by a former Formula One racing driver, TSW products, including Petrol Eyewear, reflect a rich racing heritage.