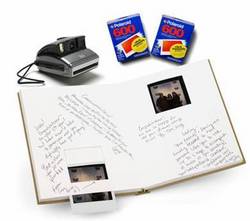 As a partner of Polaroid for the past several years, we were aware of the decision to phase out this part of their business some time ago and inventoried cameras and film accordingly
San Francisco, CA (PRWEB) February 11, 2008
Adesso Albums (http://www.adessoalbums.com) released today a response to Polaroid's recent announcement that it will be shutting down factories in Massachusetts and ceasing production of it's instant cameras and film. Despite this news from Polaroid, Adesso Albums will continue to sell Polaroid instant cameras and film, and expects to be able to do so through 2009. Company to remain a source for Adesso Albums for Polaroid and cameras and film.
"As a partner of Polaroid for the past several years, we were aware of the decision to phase out this part of their business some time ago and inventoried cameras and film accordingly," said Lesley Mattos, founder of Adesso Albums. "We have plenty of Polaroid inventory and albums to accommodate our new and existing customers - for some time to come."
Adesso is also extremely optimistic that another company - one that is currently or has at one time been involved in this market - will acquire licensing rights for the Polaroid instant film and continue to make the film available to the estimated 28 million Polaroid enthusiasts around the world.
While the Company's roots are in the Polaroid instant technology, Adesso Albums, Inc. has continued to keep pace with what type of image capturing technology consumers are using so that it can continue to accommodate new trends. In addition to Adesso Albums for Polaroids, the Company also offers Adesso Albums for digital photos and recently announced its newest product line for ZINK, an inkless printing technology that allows users to print instantly from their digital cameras and camera phones.
Mattos continued, "No matter how you capture your images, Adesso Albums has a place for you to turn them into an instant memento!"
Adesso Albums' patented concept is revolutionizing the traditional guest book market. The albums combine Polaroid instant photos taken of guests at events - such as weddings, bridal or baby showers, birthday, anniversary, graduation parties - with personalized hand written sentiments from those guests, creating a unique, one of a kind, real time memento of the event that can be enjoyed the instant the event is over.
For more information:
Contact: Lesley Mattos
Visit: http://www.adessoalbums.com
Call: 800.961.7761
Fax: 415.957.9902
About Adesso Albums:
Adesso Albums, Inc. was founded in January 2002 and is headquartered in San Francisco, CA. The Company designs, markets and sells the world's first line of "instant photo guest books®" internationally. Adesso Albums and the Adesso Albums logo are registered trademarks of Adesso Albums, Inc.
###