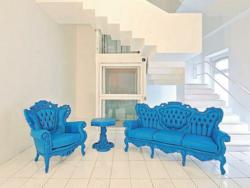 From a more neutral chocolate, black, or white to the screaming yellow, or even fushia, purple, orange, green, or blue, all of PolArt's modern furniture is available in an amazing selection of bright colors that complete their urban-chic style.
(PRWEB) November 28, 2012
HomeThangs.com – the Home Improvement Super Store has made their goal to deliver the right product to the consumer, with that in mind, shopping and home design tips, as well as special product selections are being introduced.
HomeThangs.com has now something special for those looking for a bold, colorful statement piece for a modern living space. PolArt, a specialty furniture designer, offers modern furniture and accent pieces that are antique inspired, with breathtaking takes on classical furnishings made with brightly colored polyresin, perfect for a statement piece that will really wow.
1. What Is PolArt
PolArt speaks for itself with their striking furniture designs, for example, the blue living room set - the Sofa, Arm Chair, and Side Table are all done in pitch-perfect Victorian style, but instead of elaborately carved mahogany and plush velvet or rich leather, these pieces are all made of colorful fabric cushions combined with cast poly-resin for a look that's as strikingly modern as it is perfectly period-inspired.
2. Making A Case For Color
Admittedly, not everyone is going to want a peacock blue Victorian-inspired sofa set, and not every home decor exactly lends well to such a set up. But even a single, brightly colored piece of modern furniture like the sassy PolArt's Side Table is a great way to add stellar visual interest to the space. A bright color is great for a statement piece, too, because it's boldly defiant and holds its own regardless of the rest of the color scheme. If the living room or family room is otherwise a more traditionally modern, neutral/industrial palette, a unique, bright pop of color like this is an even better way to easily dress up the decor.
3. Pick A Color, Any Color
That said, one of the best things about PolArt's modern furniture is that, all of their furniture is available in a huge variety of colors, all of them bold, all of them striking, and all entirely up to you. From a more neutral chocolate, black, or white to the screaming yellow, or even fushia, purple, orange, green, or blue, all of their modern furniture is available in an amazing selection of bright colors that complete their urban-chic style. And when it comes to chairs and sofas, one can even opt for a different color frame and material, for an extreme, bold contrast.
4. Indoor/Outdoor Style
One of the biggest advantages of PolArt's use of polyresin instead of wood is that many of their pieces can be used both indoors and out. Many of their most luxurious chairs – like the lovely Ladies Chair - even have the option to be made with weather-proof outdoor upholstery instead of the standard material. And because the chairs are made of a durable plastic material to start, all their chairs and tables hold up well against weathering, making for possibly the most unique combination of outdoor furniture out there.
5. Cool Cutaways
An ultra-minimized, cut-out or silhouetted modern furniture versions of an antique design - PolArt's whole InsideOut collection takes an iconic antique silhouette and carves it into a simple, solid white square, for an "inside out" or cutout version of a classic piece. This creates a great look, a pitch perfect tongue in cheek modern take on classical form, and a great way to bring a sophisticated, sassy modern furniture to a living space.
6. Why it Works So Well
This is definitely a (very distinct) subset of modern furniture design, and worlds away from the simple, clean, minimal lines most people might think of when thinking of modern furniture. But the shapes of classical furniture design are pretty deeply ingrained in our collective consciousness. We see something like the PolArt's Chaise Lounge, or even the Mirror or Chandelier and immediately register luxury, sophistication, and maybe even a sense of reglaness. But there's no denying the modern look of a stark white piece against a colorful background. The old world chic lends a little elegance, and makes the piece as unexpected as the color makes it bold – which is nothing if not modern!
So if looking for an eye catching, stunning accent piece – or even a bold new vibe for the whole living space, PolArt offers a totally unique, slightly boutique style to make the room stand out.
HomeThangs.com is not only a home improvement superstore, it also provides expert design tips and a comprehensive shopping guide, taking the ideas from professional interior designers, and offering tips to the consumers on how to pick the products to best suit their needs.