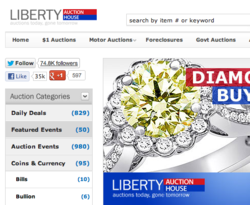 LibertyAuctionHouse.com is excited to release this information to the public
Laguna Niguel, California (PRWEB) July 12, 2012
According to LibertyAuctionHouse.com, the auction site known for making police auctions available to the American audience free of charge, they have updated the latest release of government auction data. The website holds internet auctions from the government agency's forfeited, seized, found or surplus items, which usually are sitting in a warehouse in the at law enforcement agencies and city municipalities.
Founded by a US Marine of 27 years, Michael Strom, Liberty Auction House provides an auction and daily deals platform for jewelry, stamps, us coins and cars from police departments and municipalities nationwide. Police departments and municipalities provide these items in a live public auction and Liberty Auction House informs users where they are located.
"LibertyAuctionHouse.com is excited to release this information to the public," said Strom, CEO for LibertyAuctionHouse.com. "We expect that our customer base to explode with this new batch of police auctions."
About LibertyAuctionHouse.com
LibertyAuctionHouse.com offers free database of police auctions and government auctions. LibertyAuctionHouse.com is known for online auctions and daily deals for jewelry, us coins and stamp auctions.