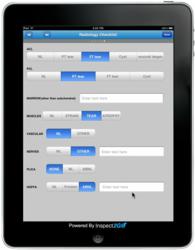 Los Angeles, CA (PRWEB) October 25, 2011
Inspect2GO (http://www.inspect2go.com/ems/) is a custom mobile application development company with technology well suited for emergency, government and healthcare apps. The core technology encompasses checklist, data handling and reporting from wireless devices. This field reporting technology is ideal for police and fire departments, emergency responders (EMS), healthcare (hospitals, medical doctors and nurses), government agencies, local school districts, universities, and some non-profit organizations. The goal is to increase efficiency, lower costs and reduce errors in each of these public service areas.
Specific projects may include SOP (standard operating procedure) mobile apps, inspection and checklist apps, database reporting and pdf reports, chain of custody apps, FDA controlled substance logs, audit forms, vehicle inspection checklists and food safety apps. The applications function on iPad, iPhone, Android phone and tablet computers. See http://www.inspect2go.com/ems/
Example Applications
Inspect2GO's field reporting and mobile app technology is ideally suited for each of the following

Medical technician checklists
Laboratory SOPs (standard operating procedures) on iPad and Android tablets
Chain of Custody (CoC) apps – Controlled substance logs, evidence and environmental sampling
Daily/Weekly/Monthly logs and walk through inspection audit applications
Doctor/nurse/medical checklists on iPad
School/University kitchen inspection apps
Hospital cafeteria food inspection checklists (FDA, HACCP, USDA/FSIS)
Maintenance iPad apps for bathrooms and cleanliness
Federal, state and local/city regulatory inspection audit checklists for iPhone, iPad, Android phones and tablet PCs
Vehicle and equipment inspection checklists for iPhone and Android smartphones
Equipment checkout
Custom Application Development Capabilities
Inspect2GO's custom applications include a combination of the following capabilities

Signatures
Geotagging
Photo – Image capture, image markup and notes
PDF Reports – Custom formatted reports on custom letterhead, with logos, sent from the mobile phone
Database Reporting – Hosted SQL database server data transfer, reports, trending
Data Handling – Database file, csv and xls files
About Inspect2Go
Inspect2Go is a mobile application development company based in Southern California. The firm's technology includes inspection checklist mobile apps with signature, photo, markup, custom reporting, pdf email and database functions. The checklist apps are compatible with Apple iOS (iPhone, iPad) and Android.
###