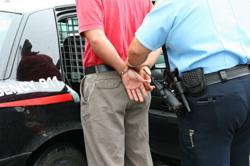 New friend?
Potential date?
New Neighbor?
Make sure to check their arrest records!!!
Boston, MA (PRWEB) September 20, 2012
PoliceArrests.com now provides the public with an easy-to-use online database of arrest records and mug shots, providing a complete source of information regarding local offenders, arrest records found under a searched name, as well as statistical analyses of nationwide arrests.
Statistics released by nationwide police are broken down into easily-understood figures at PoliceArrests.com by age and tags given to mug shots by visitors to the site. According to police arrest records, the majority of those arrested are between the ages of 25 and 35 at 41.19%, and those aged 70 and older are by far the least at 0.44%.
The interactive feature at PoliceArrests.com allows users to get in on the fun by assigning tags to mug shots found on the site. These tags may include "Boozer," "Sexy," TransGender" or "Celebrity" to name a few. Users simply choose a tag that they believe best describes the mug shot they're viewing. At PoliceArrests.com, more than 30% of the mug shots tagged have been labeled as "Sexy," and just under 9% are of "Celebrity" status.
The free arrest records search option at PoliceArrests.com allows users to search for public arrest records in someone else's name anonymously. Searches may be further narrowed by the year of birth or state, and results are provided immediately. This can be a vital tool when trying to determine how trustworthy a new friend or potential date may be, offering information about whether they have been arrested for any violent crimes.
Details provided in an arrest records search at PoliceArrests.com include full name, record ID and case number, charges filed, county and court where the case was heard, and disposition of the case. Perhaps an even more valuable service offered at PoliceArrests.com is the ability to quickly search for local sex offenders in a specific area by simply inputting a zip code. If there are sex offenders found in the area, their mug shots and related public arrest & charge information is provided to the user.