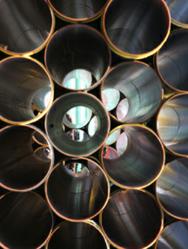 Scrap metal crime affects everyone across the country; businesses, industries and domestic households
Eccles, Greater Manchester (PRWEB) June 20, 2011
The Police Review has announced that metal theft is the fastest growing crime in the UK, with annual industry damage estimated at £360 million and steadily increasing; roofs, mild steel tubing, man-hole covers and statues have all been targeted as a result. The British Metals Recycling Association is working in conjunction with both the British Transport Police and the Association of Chief Police Officers in an effort to eradicate this dangerous criminal activity.
In April 2011, the BBC reported that the increase in scrap metal theft had led to the implementation of Operation Elementary by the British Transport Police involving the use of a range of thermal imaging cameras, motion detectors and a specially adapted 'quiet train'.
Operation Elementary targeted the West Coast Mainline and Channel Tunnel Rail Link and is one of the many initiatives employed by the British Constabulary in the UK to combat the growing problem of metal theft, specifically concentrating on the theft of copper signal and power cables which have been plunging the rail system into chaos.
In March 2011 the BBC news reported that six men had been convicted for cutting cabling at locations selected via the internet resulting in a total of 322 hours of delays to the rail network and nearly £1m worth of repair costs. In some parts of Yorkshire, where heavy industry and mild steel suppliers have long been associated, thefts have increased drastically in the last five years. Speaking for Network Rail, Rachel Lowe described the county as 'by far the worst region, even today.'
Network Rail have estimated the cost of metal theft of 2010 stood at £35m, but the growing demand from countries with booming economies causing the drastic increase in international metal prices is not just affecting the UK's railways.
Preston Park in Brighton once displayed a statue of former Olympic Athletics Champion Steve Ovett before it was stolen by metal thieves, who also chose to relieve a church in Devon of its bells. In the world of scrap metal crime churches have been a common, easy target for years as metalwork, steel tubing, roof lead and mild steel are often pilfered in the dead of night by opportunists.
A spokesman for Hilmar Tubes - independent mild steel tube and section stock holding company based in Manchester - has been observing the current situation. 'Being part of the metals industry, I have an interest, and the theft and laundering of steel and other products from the country's utility systems is truly audacious.'
2010 saw a quarter of all households and businesses in Hertfordshire losing their broadband connection entirely after a spate of telecom cable thefts. Tony Glover of industry group Energy Networks warned that thefts from the nation's electricity and gas infrastructures are doubling. 'As a crime, it is sometimes as little as £5, £10, £20, never more than £100 worth in terms of the value of (the metals), yet the disruption can be enormous.'
There was also a documented incident in Kent when 94,000 homes lost their electric supplies after someone attempted to cut high voltage transmission cables from under a bridge in Dartford.
'For the meagre amounts paid to thieves for stolen materials, the entire crime seems frustratingly, a waste of effort in the first place,' continued a spokesman for steel tube suppliers, Hilmar Tubes. 'It's an illegal trade of minimal profit for maximum risk, which also threatens disruption and delays in the framework of utility and transport services.'
In 2010, the BBC reported that three men were killed in separate incidents at electricity substations with one man killed on the railway during his attempted theft of signal cables. Discussing the risks involved with such high voltages, Mr Glover, speaking for Energy Networks, commented that those killed were not so much electrocuted as 'blown up', and warned that governor stations, the gas supply network's version of electricity substations, could be the next target for thieves with the 'potentially explosive combination' of high pressure gas as well as cables being a major risk.
A spokesman for mild steel suppliers Hilmar Tubes said: 'When you consider the actual risk involved, the level of stupidity displayed by these individuals is shocking.' If they're lucky enough to avoid serious injuries during the crime, thieves then sell the stolen materials to various scrap yards across the UK, where they are eventually melted down and laundered into other industries by dealers who openly advertise 'hear no evil, see no evil, speak no evil' services.
But the increasing trend for scrap metal theft amongst criminals is evolving from petty opportunists to much more elaborate, sophisticated and organised gangs. And their haul of stolen metals and steel tube is not always sold on to UK scrap yards either, with foreign individuals sending the metal abroad to be sold to continental steel suppliers. 'Once criminals find a lucrative market, they will refine their tactics over time,' commented Superintendent Paul Brogden of the British Transport Police.
He explained that the police are attempting to ban metal dealers paying cash as well as other preventative measures, including the widespread use of CCTV and the right to raid said dealers without a warrant. Currently, the 1964 Scrap Metal Dealers Act allows police the right to seize stolen stock, but not to revoke the rights of the dealer caught on the receiving end, a law which the British Transport Police are hoping to revise.
Working in collaboration with the utility industries, a dedicated task force has been created share intelligence about the growing trend of metal theft in the UK, already identifying twelve locations where their efforts will be concentrated, aiming to provide support to the scrap metal industry to assist dealers with the identification of stolen goods and to raise public awareness of such crimes.
'Eradicating the theft and trade of metals like mild steel will benefit all of us,' said a spokesman for Hilmar Tubes, steel pipe suppliers based in Manchester. 'Scrap metal crime affects everyone across the country; businesses, industries and domestic households.'
This Press Release is just one of the SEO services by Vizcom. To find out more click Search Engine Optimisation Manchester, or click Web Design Bolton to see all other services.
###