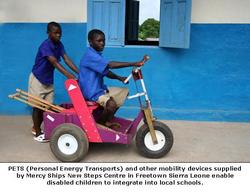 I did nothing. All day…nothing. I walked on my knees. Now I can stand. They have done a really wonderful thing for me.
Freetown, Sierra Leone (Vocus) October 23, 2007
As the international community commemorates World Polio Day and the race to eradicate polio worldwide, Mercy Ships "New Steps" center in Freetown, continues to give a leg up to those who contracted the disease during the decade of conflict in the nation when immunizations were not consistent.
With a Sierra Leonean team assisted by international professional volunteers, New Steps provides a range of otherwise unavailable services to more than 30 communities, many living near to others who share their same disability.
"Living in a community of people facing similar challenges can provide individuals with the support they need to learn a skill and earn a living," states Sierra Leonean Ibrahim Bangura, who suffered from polio as a child and serves as New Steps Deputy Director.
Mercy Ships New Steps provides services in:

Rehabilitation – physical therapy and the creation of assistive devices
Health Care Services – basic medical care for mobility-impaired and their families
School Integration program: over 400 children with mobility disabilities integrated in primary and secondary schools in Greater Freetown and Lunsar this year
Personal Development – literacy, emotional and spiritual counseling
Community Development – agricultural training and construction
Thousands of Sierra Leone's polio-disabled still grapple with the challenges of sustaining life and finding work in a country that finds itself at the bottom of the Human Development Index.
For 17-year-old Mariatu, that challenge was even more difficult without opportunity for an education due to her disability. Mariatu contracted polio when she was only a few years old. Her legs crippled, she dragged herself around on her knees from place to place.
Not long after Mariatu's father was killed in the war, her mother became sick and died as well. Mariatu, her sister and three brothers were taken in by an aunt who brought her to the Mercy Ships New Steps Center in Freetown.
Five years ago, New Steps volunteers fitted her with calipers and crutches to help her walk upright instead of crawl. A wheelchair gave her mobility around home and she was able to attend her first classes at the age of 12, assisted by the New Steps staff who helped her school adapt to disabled student needs.
Now in her second year of junior secondary school, Mariatu lives in a community with other polio-affected women: The Polio Women and Girls Development Organization. These 25 women live together and support each other through tailoring and handcrafts. Mariatu does embroidery. Other women have been helped with micro-enterprise sewing projects and the polio-disabled men in a community nearby have a blacksmithing business. Both communities have been helped by mobility devices from New Steps.
For Mariatu, mobility aids made all the difference. She uses her Personal Energy Transportation device (PET) to get to school, parks it outside the school building, and uses her crutches to get in and around the classroom.
''I always keep very busy with my work,'' she said. Before I met Mercy Ships, she remembers, "I did nothing. All day…nothing. I walked on my knees. Now I can stand. They have done a really wonderful thing for me."
According to the UNDP Human Development Index (2006), only 35 percent of Sierra Leone's population over 15 years of age is literate.¹ Among those with physical disabilities the literacy rate is even lower.
Since 2001, the Mercy Ships Sierra Leone School Integration Program has assimilated 1,663 disabled children into public schools. Originated in cooperation with the support of the Child Protection Unit of UNICEF, this program is now run solely by New Steps Sierra Leone. This year alone, the physical and social integration program will insure the attendance of more than 400 disabled children into more than 100 schools.
With polio cases at an all-time low in West Africa, countries are renewing their commitment to eliminate the crippling polio virus all together. Still, 90% of the world's polio cases are still found in Africa, according to the WHO.²
According to UNICEF, Sierra Leone is one of the few West African countries which has kept to a timetable to eradicate polio, beginning their vaccinations to children in 1998 in the middle of the civil war. There has been no confirmed case of the wild polio virus there since 2001.
To find out more about Mercy Ships Sierra Leone's work with the polio and other disabled communities go to http://www.mercyships.org
ABOUT WORLD POLIO DAY:
The initiative to eradicate polio began in 1988 and is one of the largest public private partnerships in history with the WHO, UNICEF, Rotary International and the CDC in the US. A highly infectious virus, polio invades the nervous system and can cause paralysis within hours. There is no cure for polio, it can only be prevented. In 2006, only four countries in the world remained polio-endemic, down from more than 125 in 1988.
ABOUT MERCY SHIPS SIERRA LEONE:
Founded in 1978 as a global charity by Don and Deyon Stephens, Mercy Ships brings hope and healing to the poor in developing nations.
Recognising an unprecedented need in Sierra Leone after visits of their hospital ship, Mercy Ships established a land-based center in Freetown January 2000. Mercy Ships New Steps Center addresses rehabilitation and community development needs of the nation's disabled through holistic physical rehabilitation, healthcare, personal development and community development services.
Initially, skilled technicians worked out of a prosthetics and orthotics workshop built into a 40-foot seagoing cargo container delivered by a Mercy Ship. By 2005, a purpose-built New Steps Centre increased services. In keeping with Mercy Ships goals of sustainable community development, most of the staff are Sierra Leone nationals, supported by international volunteers assisting short term. Occupational therapists, physical therapists and prosthetics/orthotics technicians are needed to support training programs for national staff. http://www.mercyships.org/site/c.ehKHI0PJIqE/b.2735045/k.9502/Sierra_Leone.htm
Stills, video and audio clips available at http://www.mercyshipsnewsroom.org . Interview opportunities upon request.
For more information on Mercy Ships, contact:
US Media:
Pauline Rick rickp@mercyships.org
USA: (903) 939 7000
International Media:
Diane Rickard rickardd@mercyships.org
UK: 44 1438 727 800
Rene Lako, Country Director Mercy Ships Sierra Leone
lakor@mercyships.org
¹UNDP Human Development Report: http://hdr.undp.org/hdr2006/statistics/indicators/
²WHO: http://www.who.int/mediacentre/factsheets/fs114/en/
###