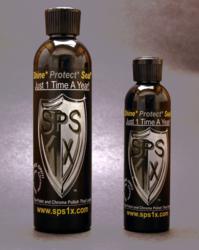 "I created SPS1x because my expectations were not being met by product already on the market." - Steve Baird, CEO, Optimum Reflections Inc.
Lewisville, TX (PRWEB) November 28, 2011
Whether lovingly polishing a first car or making a motorcycle gleam in the setting sun, keeping a personal vehicle looking showroom new is both a rite of passage for teen-agers and a statement of pride for adults. It also typically involves dozens of cleaners, polishes, waxes, buffers – and backbreaking work – several times a year.
On Cyber Monday, however, all of that is changing with Optimum Reflections Inc.'s official launch of SPS1x™ [Shine-Protect-Seal 1 time a year], a revolutionary polish and sealant that delivers a year-long deep, "wet" shine to virtually any smooth painted surface, chrome, glass, fiberglass and more.
Using a unique formula developed and tested for five years by company founder Steve Baird, SPS1x™ protects cars, motorcycles, boats, planes, RVs and more against environmental hazards – from the oxidizing rays of the sun to coastal salt spray, everyday road grime to chemicals in any drop of water.
Gone are the days of weekly soapy car washes – simply rinse with plain water and wipe or air-blow dry. Reclaimed are hundreds of dollars – and nearly as many hours – many owners put into keeping their bikes and other vehicles looking good. With SPS1x™ and proper care, far better results are possible at a fraction of the cost and effort.
There is one major problem, however: Most people will use far more than they need. A single 4 oz bottle is enough to completely cover two motorcycles or one large car, SUV or pickup. The 8 oz bottle can handle a large boat – or most, if not all, of the average family's vehicles.
From antique cars to helmets, most kitchen and bathroom countertops to windshields and mirrors, SPS1x™ is a quantum leap into the future of both protection and polish. While Optimum Reflections advertises a full year of shine and protection from a single application, many customers have reported far longer results, even from earlier versions of the formula before it was fully perfected.
SPS1x™ currently is available online at http://SPS1x.com in both 4 and 8 oz bottles. In 2012, both also will be sold through other Internet outlets and, eventually, in auto parts stores (both to be announced).
Incorporating the latest fluoro-polymer technology and high quality calcined clays and fortified with PTFE (polytetrafluoroethylene), this unmatched formula offers superior durability compared to other professional detail products on the market. Three years of testing on customer vehicles have proven it would take four to six visits a year to a professional detail shop to equal a single application of SPS1x™.
It also is a certified "green" product, meeting all U.S. state VOC (volatile organic compounds) requirements. Indeed, with a VOC level of less than 5 percent, SPS1x™ is in full compliance with California environmental regulations, which are among the most stringent in the world.
SPS1x™ is a trademarked product of Optimum Reflections Inc., a Texas corporation founded in 2006 and headquartered in Lewisville, TX. The formula is prepared and bottled by Hobo Inc. in Lakeville, MN. For additional information, e-mail Info(at)SPS1x(dot)com, use the Contact form on the website (http://SPS1x.com) or call toll-free to 855-GO-SPS1x (855-467-7719). International callers should use the company's local line – 817-305-7147.
###