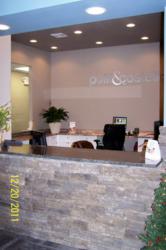 Our patients were our #1 concern, so we wanted to rebuild as quickly as possible, stated Dr. Costello.
Pittston, Pennsylvania (PRWEB) May 31, 2012
Devastated by record flooding that completely destoryed their West Pittston, PA dental office. Drs Anothony Polit and John Costello rebuilt a state of the art facutily across the bridge in Pittston, PA. During the time Polit and Costello were rebuilding they still saw their patients out of two dental offices, fellow friend and dentist, Dr. James DeFinnis and Dr. Shawn Casey. "They really helped us out and we will be forever grateful," explains Dr. Polit.
The new office was completed in nine weeks and had a grand opening on Novemeber 14, 2011. The office features state of the art sterlization, I-cat technology, no radiation dental x-rays, more operatiores than the last office to meet the growing needs of the practice. With the opening of the new office Polit & Costello also redesigned their website to show their new and existing patients what to expect and give them knowledge about the office before they even step foot there.
To find out more about Polit and Costello dentistry visit their website and like them on Facebook or call them to schedule an appointment at 570-655-7645.