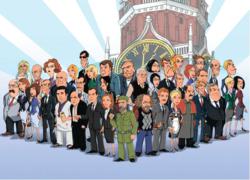 "The concept of the game is transferable to other legislative systems and countries, given the appropriate characters," said Masin. "We want people to play for the fun of the game, but we hope to educate and interest them in the process."

New York, NY (PRWEB) June 20, 2011
A unique and thought-provoking game has joined the social gaming community through Russian-based VKontakte (vk.com) network. Politics reflects the reality of Russia's political arena with its conflict, intrigue and all of the key players. Whether you are announcing your presidential bid or gossiping within high-profile societal circles, Politics will educate, challenge, entertain and shock.
Designed by a team of Moscow-based developers, the game was launched on Russia's leading social network, Vkontakte on June 20, 2011. The site boasts over 100 million registered users and reaches 73% of all internet users in Russia, promising a lucrative niche for the game of Politics. Funded by a group of private investors, the game is not affiliated with any political group, but rather is a progressive attempt to raise interest to politics among the Russian youth. Statistically, 66% of young people in the country see no importance in being politically knowledgeable.
"This is the election year for Russia and people's interest to politics, already blended with pop culture, will grow," said Max Masin, the game developer and producer. "The idea behind the game combines the interactivity of social gaming with relevant, newsworthy content."
Social media has demonstrated its power to inspire people to make a difference in the Middle East as well as other parts of the world. Politics pokes fun at the elected officials and pushes the envelope with its humorous approach, but also empowers the users to create their parties, amend the constitution and make up new laws.
"The concept of the game is transferable to other legislative systems and countries, given the appropriate characters," said Masin. "We want people to play for the fun of the game, but we hope to educate and interest them in the process."
Each participant in the game of Politics starts out as an average citizen with an opportunity to make waves in the political arena and, potentially, run for President. The current version of the game outlines every aspect of Russian legislation, taking jabs at such stereotypes as corruption, bribery and kickbacks.
For more information on Politics, please contact Alexandra Moncion at 212.964.0030 X117 or amoncion(at)global-ny.com. The game is currently available exclusively through VKontakte with plans to expand to Odnoklassniki.ru and Mail.ru to cover Russia's entire social networking spectrum.
###