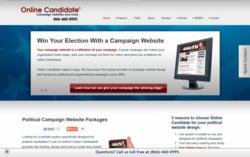 We updated a lot of material both on the Online Candidate website and within our political blog.
Montgomery, NY (PRWEB) April 17, 2013
OnlineCandidate.com recently unveiled their updated website. Completely re-designed from design and layout to improved navigation, the updated website makes it easier for clients to navigate and use the site.
"The last design update for OnlineCandidate.com was way back in early 2010," says Shane Daley, Partner at OnlineCandidate.com. "While the redesign looked great at the time, by the end of 2012 we felt that the site was starting to look a little dated."
In addition to the site update, the content management system (CMS) that controls client websites has also been redesigned. The navigation has been streamlined in order to make the system more intuitive and easy to use. Several CMS features have been tweaked and upgraded in the upgrade.
This follows Online Candidate's work in incorporating the most modern design trends into their client's campaign websites.
"While we've worked to keep our client websites looking modern and fresh, it was about time we updated our own website," Daley adds. "In addition to freshening up the look, the content needed some reorganization. We updated a lot of material both on the site and within our political blog."
In addition to providing campaign websites, Online Candidate also provides a wide variety of digital products, including campaign e-books, political brochure templates and political website templates.
The site update was designed to better serve political candidates, political consultants and professionals with their campaign needs.
About OnlineCandidate.com
Since 2004, Online Candidate has provided political website design services at an affordable price. Each website package includes a domain name and hosting, including a powerful content management system and tools.
For more information visit http://www.onlinecandidate.com